Harrison House, c. 1859, 1876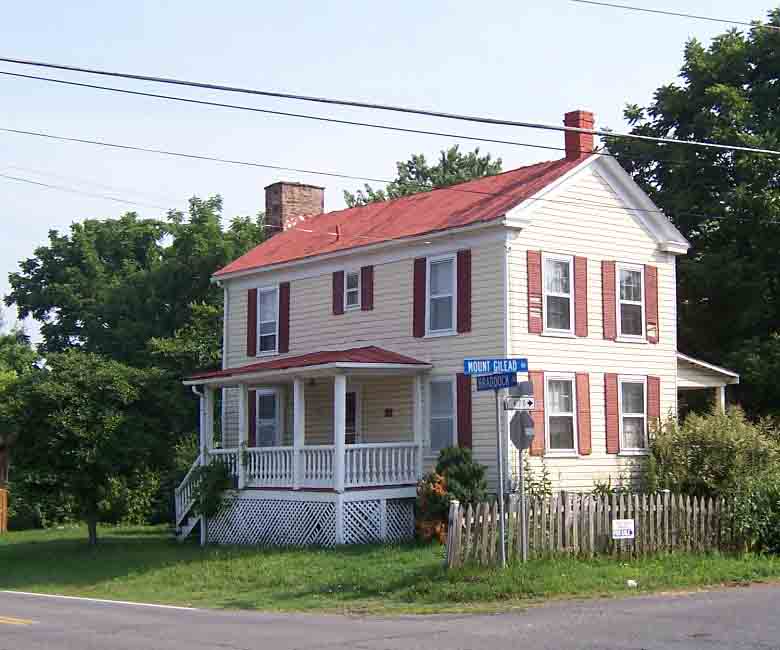 William Beckwith owned the house, later known as the Harrison House, during the Civil War. He may have built the house in 1859 when he purchased the lot. The land tax records of 1866, which list which buildings were destroyed during the Civil War, do not indicate that any buildings owned by William Beckwith were damaged. Oral tradition asserts that services were conducted for St. John's Episcopal Church at this house during the Civil War while the church was under military occupation. Beckwith sold the property to Spotsylvania County Spindle, better known as S.C. Spindle, in 1866.
S.C. Spindle was a Confederate soldier during the war. The 1870 federal census lists S.C. Spindle as a harness maker. He lived with his mother who kept house. In October of 1870, Spindle sold the property to James F. Buckley.
James Buckley was a merchant. He owned the property for five years before he sold it to a trustee for Virginia Harrison, wife of Thomas D. Harrison, in 1875.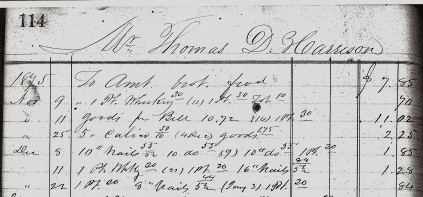 Thomas Harrison's ledger account with the store
of John DeBell,
Courtesy Mildred DeBell
Thomas Harrison was a blacksmith. Federal census records indicate that he worked as a blacksmith as early as 1860. Upon purchasing the property, Harrison began to buy nails from the store operated by John DeBell. Nails were purchased on the 8th, 9th, 21st, and 22nd of December 1875. It is unknown if Harrison was using the nails to make improvements to the house, construct a blacksmith shop, or both. The style of interior door hardware and the newel post suggests that Harrison made improvements to the house in 1876. Tax records show an increase in the value of buildings on the property that year. He likely retained the house foundation and chimney, since the construction is more typical of pre-Civil War masonry. Thomas Harrison died July 12, 1903 at the age of 79. The Harrison family continued to own the property until 1948.
The structure is a two-story, three-bay vernacular I-house with a stone foundation of local sandstone. The frame house, clad with covelap siding, has conrnice returns on the gable ends, with a standing-seam metal roof. The windows are typically six-over-six double hung with louvered shutters. A large exterior chimney, built of local sandstone, is on the northwest side of the building, while a small brick interior-chimney flue penetrates the roof near the southeastern gable end.
The Harrision House, located at 13930 Braddock Road in Historic Centreville, is a contributing structure to the Historic Centreville Overlay District.