The History and Significance of Centreville, Virginia
by Debbie Robison
October 22, 2006
SIGNIFICANCE OF HISTORIC CENTREVILLE
The historic Centreville area is significant within the chronologically-based historic contexts of:
Colonial and Early-National Period development and expansion (1727-1791)
Development of a mercantile, manufacturing, and travelers' town (1792-1860)
Civil War occupation (1861-1865)
Post-Civil War recovery (1866-1915)
Motor-car travel and tourism prosperity (1916-1956)
In addition, throughout its history, the area reflected the broad patterns of cyclical economic prosperity and decline.
COLONIAL AND EARLY-NATIONAL PERIOD DEVELOPMENT AND EXPANSION
After the available land was settled in the Northern Neck of Virginia, planters began acquiring land in the northern portion of Virginia, and then in the Shenandoah Valley. Roads played an important role in the development and expansion of new agricultural areas; due to travel in search of land opportunities, and for transportation of goods to port towns. With the historic Centreville area at a central point along many travel routes, travel impacted the rise, fall, and resurgence of the community.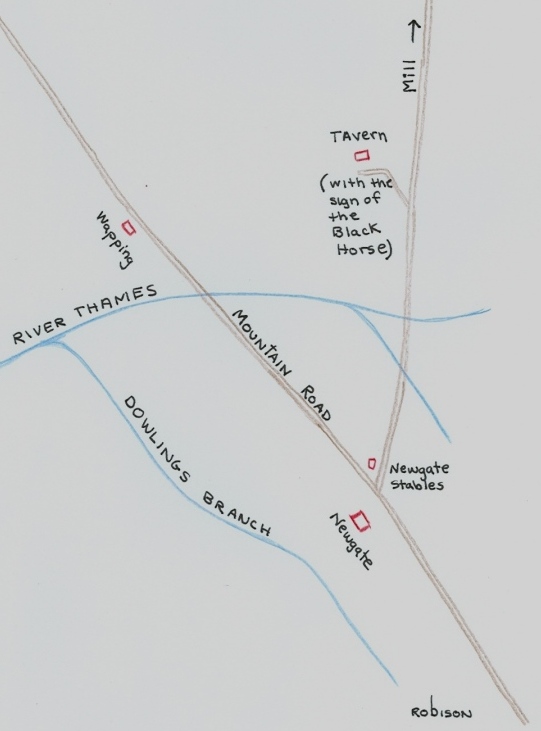 By the 1720s, a road was established from the Ox Road, heading in a westerly, and then northwesterly direction.<![if !supportFootnotes]>[1]<![endif]> In 1740, this route was labeled Rolling path on Willoughby Newton's land grant plat.<![if !supportFootnotes]>[2]<![endif]>
By 1768, at the intersection of a road from Willoughby Newton's ca. 1746 water mill, a tavern known as Newgate was constructed to provide lodging and meals to travelers along the Mountain Road. A competing tavern, with the sign of the Black Horse, was constructed by Joel Beach ca. 1785. This structure was later renamed Mount Gilead.
A store was constructed on the Mountain Road by 1762, which was called Lane's Store by the proprietors, James Lane Junior and William Carr Lane, who operated the store in the 1760s. The area associated with the store was known as Wapping. In addition to the general merchandise sold in the store, the Lane's sold transported convicts. A 1771 advertisement in the Virginia Gazette notes that Mess. James Lane and William Carr Lane sold a parcel of convicted servants this last fall…<![if !supportFootnotes]>[3]<![endif]>
In support of the tavern and store, a community of craftsmen developed. In 1766, William Carr Lane constructed a sadler's shop and dwelling house near the store, and leased it to Charles Davis .<![if !supportFootnotes]>[4]<![endif]>
Willoughby Newton leased portions of his land grant to tenant farmers. Two of the tenant farms were located in the expanded historic district study area: William Grove leased 100 acres in 1746, and William Remey leased 150 acres the following year.<![if !supportFootnotes]>[5]<![endif]>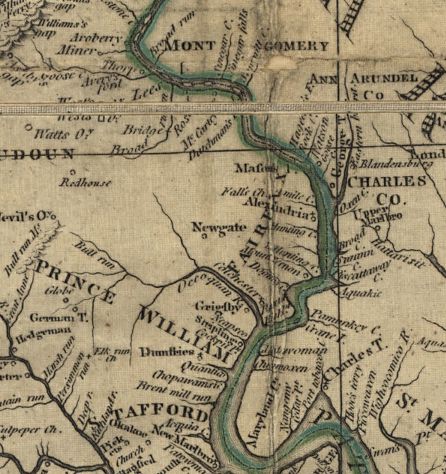 Newgate, depicted on Thomas Jefferson's 1787 map, became a well-known tavern on the road to and from the Northwest Territory. The Newgate Tavern, later called the Eagle Tavern, was mentioned in George Washington's diary and in John Davis's travel journal.<![if !supportFootnotes]>[6]<![endif]>
Portion of Thomas Jefferson's Map, 1786/87,
Courtesy Library of Congress, Geography and Map Division
DEVELOPMENT OF A MERCANTILE, MANUFACTURING, AND TRAVELERS' TOWN
The Town of Centreville, originally spelled Centerville, was the brainchild of James Hardage Lane. The impetus for the creation of the town was Lane's desire to provide financial support to his widow during her lifetime and then to provide for their children.<![if !supportFootnotes]>[7]<![endif]> James Hardage Lane had purchased a 350-acre tract north of the Mountain Road from John and Katherine Lane in 1769.<![if !supportFootnotes]>[8]<![endif]> The parcel was located near the Newgate Tavern.
In 1790, three years after James Hardage Lane's death, the local landowners petitioned the Virginia House of Delegates to establish a town on their property between Newgate and the Great Rocky Run Bridge.<![if !supportFootnotes]>[9]<![endif]> (Great Rocky Run is now known as Big Rocky Run.)
The petitioners suggested that the Turnpike Road (previously known as the Mountain Road) become the main street of the town. They reasoned that a town on the Turnpike Road leading from the Northwestern Territory and centrally located to Alexandria, Colchester, Dumfries, Middleburg, George Town, Fauquier Court House, and Leesburg would be convenient. Additionally, they touted the advantages of a healthy and well-watered country in the midst of a rich & Nourishing Neighbourhood. It was suggested that the town would in a short time become a respectable manufacturing town.
A second petition was submitted to the Legislature in October 1792, the year the General Assembly enacted legislation founding the town.<![if !supportFootnotes]>[10]<![endif]>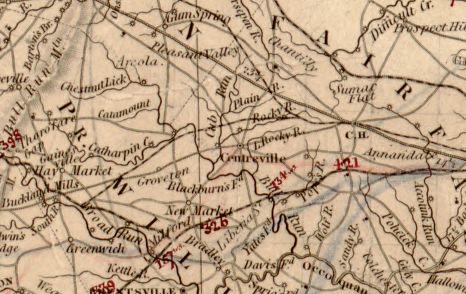 The petitioners saw the advantages of being centrally located along many travel routes. The Herman Boye map of 1828 demonstrates that roads from every direction met at Centreville.
Like many Colonial and Early-National Period Virginia towns, Centreville was laid out in a gridiron plan, an ancient land-planning system generally thought to have been developed by a Greek planner, Hippodamus of Miletus.<![if !supportFootnotes]>[11]<![endif]>
Portion of Herman Boye's Nine Sheet Map, 1828,
Courtesy Library of Congress, Geography and Map Division
The town was divided into 128, one-half acre lots. The existing turnpike road, realigned to fit the grid, became the 60' wide Main Street. All other streets were planned with 40' widths, forming a rectilinear-circulation pattern.
Town development established a pattern of mixed residential and commercial use. Residential frame houses, taverns, stores, and manufacturing concerns were constructed on the town lots, typically close to and facing a street. Tanyards were sunk along the River Thames. Newspaper advertisements and deed records corroborate this development pattern. For example:
Morriss

& Mitchell, merchants, had a store on town lot numbers 13 and 94 by 1803.<![if !supportFootnotes]>

[12]

<![endif]>
A schoolhouse was constructed on lot 15 by 1823.<![if !supportFootnotes]>

[13]

<![endif]>

Newgate

tavern was located on lot 24.<![if !supportFootnotes]>

[14]

<![endif]>
Alexander Waugh lived in a frame tenement on lots 83, 84, 85, and 86 in 1815.<![if !supportFootnotes]>

[15]

<![endif]>

Fewell

Perry's tavern, measuring 72' in front with a full-length porch, was located on lots 26, and 27. An adjacent lot was used for the stage stable. <![if !supportFootnotes]>

[16]

<![endif]>

A store and blacksmith shop were

located on lots 17 and 100 by 1827.<![if !supportFootnotes]>

[17]

<![endif]>
Francis Adams had a

tanyard

with a tanning and currying house on lot 21.<![if !supportFootnotes]>

[18]

<![endif]>
Mount Gilead, former tavern with the sign of the Black Horse, was the home of Francis Adams.<![if !supportFootnotes]>

[19]

<![endif]>
By 1806, Daniel Harrington owned property on lots 111, 112, and part of lot 21. The houses and outbuildings included the dwelling house, a store, granary, stable, and saddlers shop. He sunk a

tanyard

on lot 111.<![if !supportFootnotes]>

[20]

<![endif]>
Royal Oaks was built on a large track of land; the house was located in the area of lot 123.
John

Henings

operated a house of entertainment on lot 19. (Known today as the

Havener

House.)<![if !supportFootnotes]>

[21]

<![endif]>
Many of the structures were frame construction over a foundation of irregularly coursed local, red-fieldstone rubble. The gable-end roofs were pitched, often penetrated with dormers. The siding was often clapboard or board & batten. Entryways were often covered with porches or porticos.
Travel continued to have an impact on the prosperity of the town. Though the town citizens petitioned against relocating the turnpike road north of the town, thus bypassing their establishments, the Little River Turnpike was constructed connecting Alexandria with Aldie, Virginia.<![if !supportFootnotes]>[22]<![endif]> To mitigate the loss of travelers passing through town, the citizens petitioned the Virginia General Assembly for an Act authorizing a lottery for funds to construct a turnpike linking Alexandria with Fauquier Courthouse (Warrenton).<![if !supportFootnotes]>[23]<![endif]> The Fauquier & Alexandria Turnpike connected with the Little River Turnpike at Fairfax, passed three-quarters of the way through the town of Centreville, then turned west between town lots 18 and 20, running parallel to the River Thames, to Fauquier Courthouse.
CIVIL WAR OCCUPATION
Because of Centreville's strategic location on high ground between Manassas Junction and Washington, and its relation to the turnpike and railroad systems, both Union and Confederate armies occupied the town during the war. Following are some noteworthy events.
Union Occupation: July 18, 1861 – ca. July 26, 1861
On July 18, 1861, Brigadier General Irwin McDowell arrived in Centerville and set up camp in and around the town.<![if !supportFootnotes]>[24]<![endif]> Following action at Blackburn's Ford, Union troops returned with their wounded to Centreville where Surgeon William S. King made arrangements to use a hotel, church, and a large dwelling as hospitals. Following the major conflict of the First Battle of Bull Run (Manassas), numerous wounded were transported to Centreville and cared for in homes and churches. When the Union army fled though Centreville, the wounded were loaded on wagons and transported to Washington.<![if !supportFootnotes]>[25]<![endif]>
Confederate Winter Encampment: October 16, 1861 – March 8/9, 1862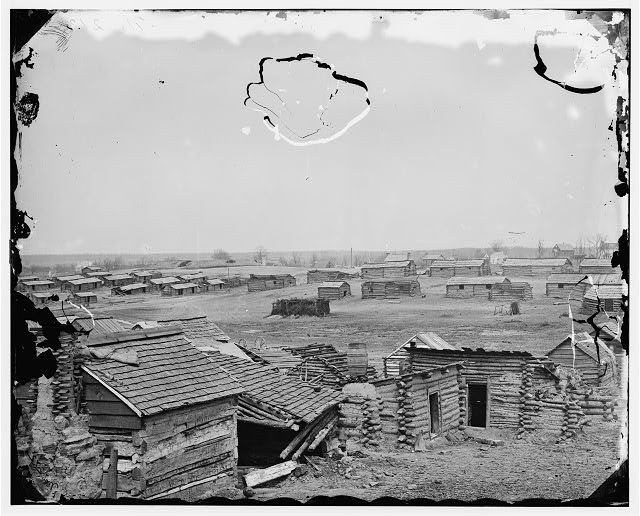 Late in the evening of October 16, 1861, General Joseph Eggleston Johnston's army arrived in Centreville and soon began construction of forts, breastworks, riflepits, and batteries on the high ground and at strategic locations. A sketch map drawn in December of 1861 depicts the location of the fortifications and troop encampments. Over five miles of earthworks were built on the Centreville plateau. The earthworks consisted of trenches with earth mounded high on one side.<![if !supportFootnotes]>[26]<![endif]> At least five forts were constructed in the Centreville area. Farm fields were used as drilling grounds.
Confederate Winter Quarters, 1862,
Courtesy Library of Congress, Prints & Photographs Division
By October 1861, General Johnson was planning for the construction of a winter encampment at Centreville. Framework from dilapidated and deserted buildings was taken to camp for the construction of substantial houses. Sufficient supplies of lumber could not be salvaged to construct enough housing for 40,000 soldiers, thus trees were felled for the construction of log cabins, leaving the area devoid of trees. <![if !supportFootnotes]>[27]<![endif]>
By the end of December 1861, Confederate troops had built over fifteen hundred log cabins housing from eight to twenty men each.
Union Survey: March 10, 1862 – ca. March 13, 1862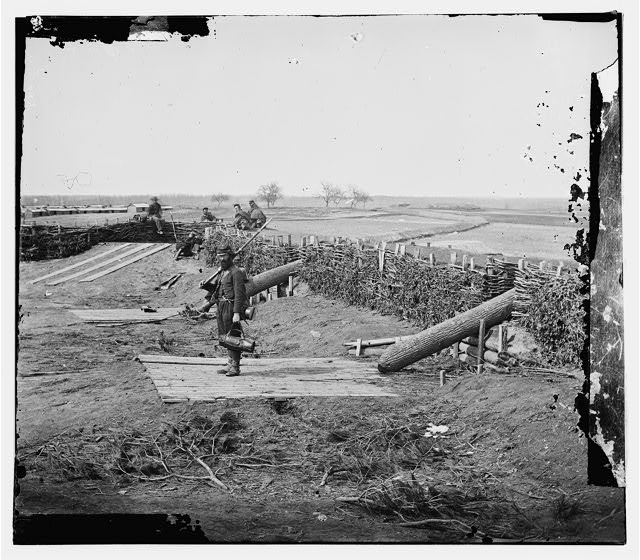 On March 10, 1862, Union troops of General Philip Kearny's Third New Jersey Brigade and Averell's Third and Eighth Pennsylvania Cavalry entered Centreville. The troops surveyed and photographed the area for several days before returning to Alexandria.
Upon entering the Confederate fortifications, the troops confirmed that the embrasures contained large logs, dubbed "Quaker guns" instead of bona fide artillery pieces.
Federal Trooops at Confederate Fort with Quaker Guns, 1862,
Courtesy Library of Congress, Prints & Photographs Division
Union Occupation: By June 20, 1863 – ca. October 14, 1863
Union Brigadier-General Rufus King held Centreville with Infantry and Cavalry who were often sent out in search of guerrillas, specifically White and Mosby. By October 4th, King had moved on to Fairfax Courthouse, having until then kept a long line of pickets in front of Centreville. On October 13, 1863, Major-General Meade ordered the army massed at Centreville. It was hoped that the Union army was sufficiently far ahead of the Confederates to enable the seizure of the Centreville Heights.<![if !supportFootnotes]>[28]<![endif]> General Newton was to move from Bristoe through Manassas Junction to Centreville by way of Mitchell's Ford, in an effort to seize and hold the heights and redoubts.
Robert Sneden, a Union cartographer, created a map in September 1863 titled, New Defences Erected at Centreville Virginia By Col Alexander Chief of Engineers USA.
POST CIVIL WAR RECOVERY
Centreville's modest recovery from the war was slow. The underlying advantage upon which Centreville achieved early success was the central location of the town at the intersection of an extensive road network. The heavy traffic of war destroyed the roads. In 1916, travelers from Washington to Warrenton generally chose a 76-mile route via Leesburg rather than attempt to navigate the poor roads around Centreville and Bull Run.<![if !supportFootnotes]>[29]<![endif]>
Prior to the war, a large portion of the lots and land surrounding the town was purchased during a period of economic recovery and business expansion by a local land speculator, Alexander Spotswood Grigsby. Due to the impact of war on the land and buildings, values depreciated significantly, forcing Grigsby into financial ruin. It took over 23 years, from 1869 to 1892, for the Commissioners for the Court to sell off Grigsby's Centreville area real estate.<![if !supportFootnotes]>[30]<![endif]>
As new owners came to Centreville, businesses were established and homes built. In 1866, S C Spindle, a harness-maker, purchased the house known today as the Harrison House.<![if !supportFootnotes]>[31]<![endif]> In 1875, Thomas D. Harrison, a blacksmith, purchased the house and lot and began making improvements, as evidenced by the nails he purchased at the John DeBell store.<![if !supportFootnotes]>[32]<![endif]>
William H. Utterback purchased one-acre of land from the Grigsby Commissioners in 1869, towards the eastern end of town, where he constructed a store, operated a post office, and provided rooms for travelers.<![if !supportFootnotes]>[33]<![endif]>
Two churches destroyed during the war were replaced with new structures. The Stone Church was re-constructed c. 1870, replacing the 1855 building.<![if !supportFootnotes]>[34]<![endif]> St. John's Episcopal Church was constructed c. 1867 on the site of the original 1851 church.
Robert V. Utterback may have constructed a home, now known as the Hardee Chambliss Law Office, c. 1897.<![if !supportFootnotes]>[35]<![endif]>
In 1870, a correspondent for the Alexandria Gazette found Centreville improving, yet bearing marks painfully visible…We found the village contained beside the dwellings, three stores, two black smith shops, two wheel-wright shops, shoemaker shop, harness shop, etc.<![if !supportFootnotes]>[36]<![endif]>
The Washington Star "Rambler" described Centerville in 1914. Centreville is not a stirring place. It does not feel a single busy throb. It is stagnant and drowsy. Some men say "it's dead." If ever a village was killed in war it was Centerville.<![if !supportFootnotes]>[37]<![endif]>
MOTOR-CAR TRAVEL AND TOURISM PROSPERITY
The proliferation of automobiles brought motorists touring the countryside. Motoring to various destinations became a worthy mention in the societal columns of local newspapers. Road improvements brought a measure of prosperity to Centreville.
In 1915, the road through Centreville remained in poor condition. The Washington Post suggested a driving tour from Washington to Bull Run for the men who fought in the battles who were in town for a reunion. The 34.2 mile route passed through Centreville where drivers were directed to Turn right with the blacksmith shop on the left. And Turn left at the far end of the village. The road was in poor condition from Fairfax to Bull Run, yet the reporter advocated the route. In spite of the roughness of the road, however, between Fairfax, Centerville and Bull Run the scenery and historic interest is more than enough to make the trip worth while.<![if !supportFootnotes]>[38]<![endif]>
Interest began developing in 1916 to create trunk line highways in Virginia, similar to the efforts already underway in Maryland. A new road to Warrenton was proposed that would improve the poor conditions of twenty-three miles between Fairfax and Haymarket that were not Macadamized (gravel). The Warrenton and Fairfax Turnpike Company, Inc. was formed that enabled them to take over the old Alexandria-Warrenton pike. Scenery and historic interest were again touted in the newspaper as benefits to touring motorists.
As a scenic route it is hard to improve upon. Every foot of the way is of interest to the seeker in historic lore…Centreville was one of the great stopping places for stage coach lines in the olden days, and most all of the houses have historic memories connected with them…When this road is completed it will make one of the most delightful drives out of Washington for the automobilists. Places of interest, beautiful scenery and a smooth road are all that the average tourist asks for.<![if !supportFootnotes]>[39]<![endif]>
The road improvements enabled tourists to travel, stopping along the route at historic points of interest, such as Centreville. When the Washington Star "Rambler" visited Centreville again in 1921 he pointed out that Centreville had been roused from slumber by automobile traffic.
A groundswell of support arose in the early 1920s to create a transcontinental road to make an automobile trip from coast to coast a possibility at all times. The Lee Highway Association (formed in 1920), assisted by the American Automobile Association, developed a plan to link Washington to San Diego, California. The route selected in Virginia began at Washington and went in a southwest diagonal through Centreville and down the valley of Virginia. <![if !supportFootnotes]>[40]<![endif]>  Each state the route passed through was to designate the road as Lee Highway, in fitting tribute to Gen. Robert E. Lee, who after the war encouraged a united country. <![if !supportFootnotes]>[41]<![endif]>
Portions of the Warrenton-Fairfax turnpike were included in the Lee Highway trunk line, though a new section of road was constructed at Centreville to eliminate a jog the route took through the town. Lee Highway, from Centreville to Fairfax, opened in November 1925, and was considered a Big boon to Centreville that caused land values to rise.<![if !supportFootnotes]>[42]<![endif]> The road was constructed of concrete.
Businesses opened along Lee Highway, particularly near the intersection with Braddock Road. Irvin Payne constructed Payne's Market, a general store, ca. 1926 on the northeast corner. Texaco was given a lease next to the market for a filling station, and Payne received one cent for every gallon of gasoline sold.<![if !supportFootnotes]>[43]<![endif]>
Just east of Payne's Market was Ben's Lunchroom, owned and operated by Ben Cross, along with tourist cabins. The tourist cabins were later owned by Carroll Carter, who acquired property on Lee Highway just east of Cross. Payne's Tourist Home was also located in Centreville.
Carter's property had a stone filling station constructed of stone taken from the nearby dilapidated Four Chimney's house, which was used as a headquarters during the Civil War. Two local stone Masons, Pinkey McWhorter and Will Crouch used a model A pickup truck to haul the stones to Lee Highway. Much of the early-20th century stonework in the Centreville area is attributed to McWhorter and Crouch. The stone filling station was donated to the Centreville Historical Society and relocated to the historic district core.
Centreville was able to capitalize on its history, becoming a tourist attraction for motorists traveling in their touring cars. Immediately following the completion of Lee Highway to Centreville, the Centreville United Daughters of the Confederacy placed markers at the historic sites. Newspaper articles described the Centreville forts as a place of interest and Royal Oaks as a tourist attraction.<![if !supportFootnotes]>[44]<![endif]>
Improved roads facilitated construction of residential housing for commuters. Roger Spindle, a government post office department employee, had a Sears catalog kit house constructed in Centreville in 1934. A garage and driveway was built west of the house as an area for Spindle to park his motor car.<![if !supportFootnotes]>[45]<![endif]>
Early "first generation" subdivisions in the Centreville area included the Katherine T. Moore subdivision (May 1938), which was by and large demolished to make way for the Little Rocky Run subdivision, and Ratcliffe's subdivision (July 1938), which retains several original houses.<![if !supportFootnotes]>[46]<![endif]> Both of these subdivisions, constructed on Lee Highway, have been substantially redeveloped into newer "second generation" subdivisions.
N.B.
A common thread that runs through Centreville's various historical contexts is Centreville's association with road networks.
<![if !supportLists]>· <![endif]>A colonial tavern and store were constructed at the intersection to two main transportation routes.
<![if !supportLists]>· <![endif]>The town of Centreville was developed at the intersection of roads coming together like spokes of a wheel.
<![if !supportLists]>· <![endif]>Civil War strategists designed defensive fortifications at Centreville to protect against attack via roadways.
<![if !supportLists]>· <![endif]>Centreville's post-war recovery was facilitated by road improvements.
<![if !supportLists]>· <![endif]>The transcontinental Lee Highway encouraged development along the route at Centreville.
<![if !supportEndnotes]>

---
<![endif]>