Chantilly, ca. 1817
by Debbie Robison
October 23, 2007
CHANTILLY MANSION
Chantilly, VA was named after an early-19th-century farm and mansion that was located on the north side of Lee-Jackson Memorial Highway (Route 50) directly across from the Chantilly Regional Library. At that time, Lee-Jackson Memorial Highway was known as Little River Turnpike.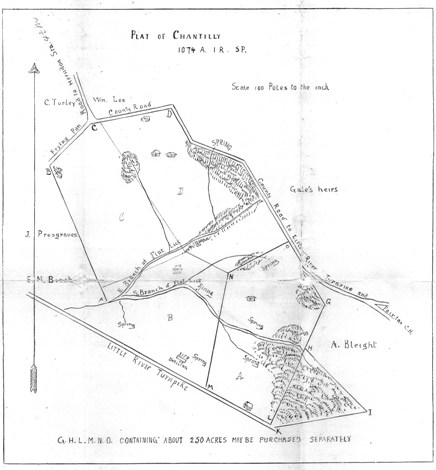 Plat of Chantilly, 1886
Charles Calvert Stuart had his Chantilly mansion constructed on land his wife, Cornelia Lee Turberville Stuart, inherited from her father's estate in 1817.<![if !supportFootnotes]>[1]<![endif]> The mansion was probably constructed through the efforts of his slaves, many of whom he inherited with the land.<![if !supportFootnotes]>[2]<![endif]> By the following year, the Stuarts were living at Chantilly.<![if !supportFootnotes]>[3]<![endif]> In 1820, the buildings at Chantilly were comparable in value ($2,000) to the buildings at nearby Sully. But by 1823, significant improvements were made, perhaps through additions or new outbuildings. This is suggested by the building values at Chantilly that increased substantially to $3,438. Additional improvements made in late 1826 or early 1827 brought the value to $3,750.67.<![if !supportFootnotes]>[4]<![endif]> 
Stuart became greatly indebted to his Sully neighbor, Francis Lightfoot Lee, for the sum of $5,707.66; and entered into a trust agreement in 1843 with Lee's representatives, using the Chantilly farm as collateral to secure the note. A debt was still outstanding when Stuart died three years later, and it fell to his widow, Cornelia, to pay the funds. She continued to live at Chantilly; though her son, Sholto Turberville Stuart, lived with her and acted as her agent in the management of her farm.<![if !supportFootnotes]>[5]<![endif]> The trust was released in 1853, suggesting that S. T. Stuart satisfied the loan prior to the outbreak of the Civil War.
The mansion house has been noted for its regal splendor, and had beautiful shade trees, shrubbery, walks, arbors, and fountains.<![if !supportFootnotes]>[6]<![endif]> When Charles Calvert Stuart died in 1846, his home was mentioned in his obituary: Chantilly, his family residence, will long be remembered by warm hearted Southerners, as the seat of the most liberal and elegant hospitalities.<![if !supportFootnotes]>[7]<![endif]>
Like his father, S. T. Stuart used enslaved individuals as house servants and farm workers. In 1855, four slaves ran away from Chantilly: Trolious Riley, Henry Riley, Douglas Riley, and Vincent. Trolious Riley was described as a house servant, and Henry Riley as a farm hand. Stuart placed a $400 reward for their return, suggesting that their flight was assisted by some Abolitionist living in Fairfax County.<![if !supportFootnotes]>[8]<![endif]> Nevertheless, their escape was unsuccessful, as the four men were captured at the Point of Rocks.<![if !supportFootnotes]>[9]<![endif]>
CIVIL WAR
S. T. Stuart was an advocate for secession from the Union, though he was quick to point out that he considered the step as a last resort only after Congressional negotiations failed. On January 21, 1861, before a large crowd gathered at the Fairfax County Courthouse to hear the speeches of the two candidates to the Virginia Secession Convention in Richmond (Alfred Moss and William H. Dulany), Sholto T. Stuart was called to make a speech. In the days following, he wrote a letter to the editor explaining his speech:
I said that it was well known I had held to the most conservative grounds with the hope of preserving the Union, that I was attached to that Union and knew and appreciated its value to South as well as North, and I hoped it would be reconstructed, if it could not be preserved; that I had looked anxiously to Congress for an adjustment of the controversy…but all this coupled with the failure to accomplish any thing by the noble Crittenden, had forced me to give up all hope of a settlement in that way… I believed the safety and honor of Virginia demanded that immediately, she should resume the powers delegated to general government. That you might call it secession, revolution, or what not, I cared very little about names where results were the same.<![if !supportFootnotes]>[10]<![endif]>
Chantilly suffered due to the Civil War, and was a site of occupation. It featured in the Battle of Ox Hill as the starting point of Winder's brigade's march towards the battlefield. Major H. J. Williams, of the Fifth Virginia Infantry commanding Winder's brigade, reported that on September 1, 1862,   Winder's brigade, Col. A. J. Grigsby commanding, was thrown into line of battle near Chantilly (the residence of Turberville Stewart, esq.) and marched forward in supporting distance of Starke's brigade to Ox Hill, a densely-wooded crest overlooking the little village of Germantown…<![if !supportFootnotes]>[11]<![endif]>
Primarily, Chantilly was used during the war as a Federal cavalry headquarters, first by General Stahel, then by Col. Percy Wyndham.<![if !supportFootnotes]>[12]<![endif]>  By October 1862, the house was deserted and dilapidated, personal family papers were scattered about, and all of the furniture was reportedly removed except for an old-fashioned mahogany sideboard that was too heavy to lift. Chantilly was a strategic point in the line of defenses around Washington, D.C., and at that time, the house was occupied by Union troops on picket duty. A newspaper correspondent wrote: The outbuildings are in equally unoccupied and dilapidated condition. The lawn, flower garden, fruit and shade trees are all neglected, the fences are down, and cavalry horses roam at will over this once truly magnificent spot. <![if !supportFootnotes]>[13]<![endif]> Brigadier-General Stahel reported that Col. Wyndham had 492 cavalry troops stationed at Chantilly; and that of that force, 140 men were on picket and patrol duty. Subsequent reports were filed by Col. Wyndham from HEADQUARTERS CAVALRY BRIGADE, Chantilly, Va.<![if !supportFootnotes]>[14]<![endif]>
Though the cavalry at Chantilly were under orders to be prepared for a long and rapid march, the men were able to make some temporary provisions against winter weather. Following a snow storm, a New York Times correspondent traveled from Centreville and described the camp at Chantilly in his report.
...The troops at this point have not gone into Winter quarters, nor do many of them desire or expect to do so. As at Centreville, the infantry and cavalry have made the best temporary arrangements possible for protection against the weather. Fortunately, there are forests of pine trees at hand, and these have been used freely in the construction of huts for the men and sheds for the horses. Although no arrangements had previously been made for the horses, the whole of the cavalry brigade commanded by Col. WYNDHAM, of the First New-Jersey Regiment, was yesterday put under cover. The sheds, constructed of poles and pine boughs make quite as comfortable quarters as the ordinary stables in the colder latitudes. Other brigades are to-day imitating the example set them by this command…<![if !supportFootnotes]>[15]<![endif]>
Several incidents occurred while the cavalry was stationed at Chantilly. In November 1862, the main force of Calvary under Brigadier-General Stahel and Colonel Wyndham advanced from Chantilly toward Ashby's Gap where they found 400 of White's cavalry. Brigadier-General Stahel attacked them at Snicker's Ferry and Berryville, capturing nearly all their officers except White; and took their colors, 40 men with horses, a wagon load of pistols and carbines, 80 cattle, and 80 horses. Afterwards, the cavalry troops returned to camp at Chantilly.<![if !supportFootnotes]>[16]<![endif]>
Capt. John S. Mosby, of the Virginia Cavalry, attacked the picket post in front of Chantilly on March 23, 1863. Lieut. Co. Robert Johnstone's vedettes gave the alarm, and 70 Union men were immediately under arms and charging the Confederates for two miles along the Little River Turnpike (now Route 50) to a point between Saunders' toll-gate (which was located at present-day Centreville Road and Route 50) and Cub Run. Mosby had his men feign a retreat to draw the Federals away from camp, then hid in the woods at a point were the Union troops had blockaded the road. Once the Union cavalry was within 100 yards of Mosby, he ordered a charge, and chased them for 4 or 5 miles. Five Federal soldiers were killed, a considerable number were wounded, and 36 men were taken prisoner by Mosby's cavalry.<![if !supportFootnotes]>[17]<![endif]>  
On October 17, 1864, over a year after the Mosby skirmish, an Affair occurred at Stuart's, near Chantilly. No supporting reports were filed, thus the details of this action are unknown.<![if !supportFootnotes]>[18]<![endif]>
THE BURNING OF CHANTILLY
Sometime about February 1863, Federal troops destroyed Chantilly by fire. The Philadelphia Inquirer printed a letter written from the headquarters of the Eighteenth Pennsylvania Dragoons at Chantilly stating that …The spot upon which we are encamped teams with reminiscences of times both old and new. I mean the "Chantilly Manor." The "Hall," which was once a splendid mansion, is now in ruins…It had previously been suggested that Chantilly was burned because the Federal troops mistook the house as belonging to Confederate General J.E.B. Stuart or that White's guerrillas burned it; however, this letter provided another reason: that Federal troops… became tired of "standing guard" around a set of bacchanalians.<![if !supportFootnotes]>[19]<![endif]>  [drunken revelers]
Mrs. McGuire, a friend of Cornelia Stuart's, wrote the following in her diary:
....Our dear friend Mrs. Stuart had just heard of the burning of her house at beautiful Chantilly. The Yankee officers had occupied it as head-quarters and, on leaving it, set fire to every house on the land, except the overseer's house and one of the servants' quarters. I expressed my surprise to Mrs. S. that she was enabled to bear it so well. She calmly replied, "God has spared my sons through so many battles, that I should be ungrateful indeed to complain of anything else."<![if !supportFootnotes]>[20]<![endif]>
Following the war, at the close of 1865, Cornelia Stuart needed to borrow $5,000, and used Chantilly for collateral. Additional debts were secured by the property in 1879.<![if !supportFootnotes]>[21]<![endif]> When Cornelia died in 1883, she was deeply in debt, necessitating the sale of the Chantilly farm. A broadside advertised that there were four tenement houses and one barn on the property.<![if !supportFootnotes]>[22]<![endif]> One of these tenement houses was the stone house that exists today.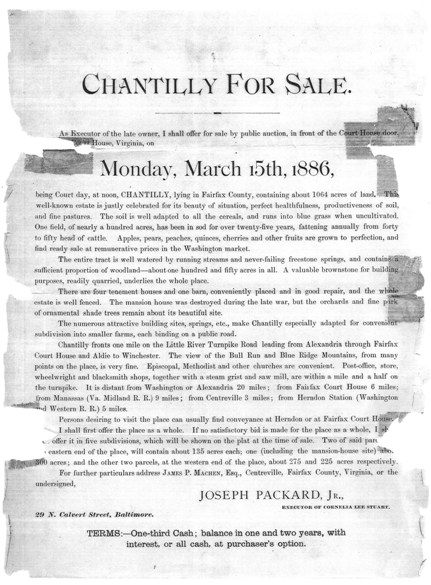 STONE HOUSE
Perhaps in the 1820s, when the Stuarts were improving their property, they had a stone house constructed along the Little River Turnpike (now Route 50) using red sandstone quarried on the property. The stone house exists today, and is located across from the Greenbrier Shopping Center.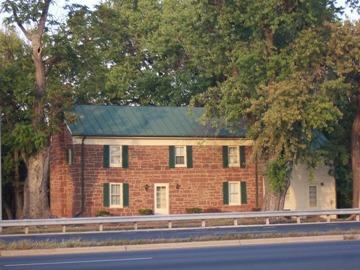 The stone house may first have been a tavern; providing food, lodging, and alcoholic beverages to travelers heading west to Winchester or east to the port of Alexandria. When Charles Calvert Stuart died in 1846, he possessed many items that suggest he may have been operating a tavern at the time; most notable were the 59 chairs, 14 beds, 28 pairs of sheets and pillowcases, 9 decanters, 84 glasses of different types, 23 milk crocks, and 4 salt cellars (used to dispense salt at the table).<![if !supportFootnotes]>[23]<![endif]>

Chantilly Stone House, ca. 1823

Local tradition also asserts that the stone house was a tavern, and it is suggested by its proximity to a turnpike; however, no definitive evidence has been uncovered so far to support a firm conclusion that the stone house was a tavern.

Local tradition also claims that the stone house was the home of the farm's overseer. During the Civil War, Mrs. McGuire, a friend of Mrs. Stuart's, wrote in her diary that Yankee officers… set fire to every house on the land, except the overseer's house and one of the servants' quarters.<![if !supportFootnotes]>[24]<![endif]> This diary entry lends credence to the supposition that the stone house was the overseer's dwelling.

In later years, the stone house was rented as a residence. In 1883 and 1884, P. P. Thomas was a tenant in the stone house. It is also possible that the stone house was rented to Lysander Wrenn. Estate accounts note that the rent for the stone house was in arrears per a letter from the sheriff. The sheriff, G. A. Gordon, wrote that Lysander Wrenn had no property on which to levy. Following the death of Cornelia Lee Stuart, the Chantilly farm (with four tenement houses, including the stone house), was advertised for sale to pay Cornelia's debts.<![if !supportFootnotes]>[25]<![endif]> George W. Powell was the purchaser of the stone house and 127 acres in 1888.<![if !supportFootnotes]>[26]<![endif]> It remained in the Powell family until 1943, when it was purchased by C. E. Hutcheson and Edith Hutcheson, his wife.<![if !supportFootnotes]>[27]<![endif]>

The Hutchesons were likely the residents who renovated the stone house, including infilling one of the front doors. A careful look at the house will reveal the original stone lintel that exists above where a second doorway used to be located. In 1964, a portion of the property between the house and the road was condemned by the Commonwealth of Virginia so that the road could be widened.<![if !supportFootnotes]>[28]<![endif]> The stone house was not always as close to the road as it is today. At present the stone house is owned by the International Town and Country Club.<![if !supportFootnotes]>[29]<![endif]>

N.B.: Chantilly was likely named after the home of Richard Henry Lee. He was a key 18th-century politician, signer of the Declaration of Independence, and Cornelia Lee Turberville Stuart's grandfather. Chantilly may occasionally have been pronounced with a southern accent; i.e. Chantilla. This is suggested by several 19th-century maps that use this erroneous spelling.<![if !supportFootnotes]>[30]<![endif]>

Charles Calvert Stuart was the half-brother of Eleanor Parke Custis and George Washington Parke Custis, who were raised by George and Martha Washington.

Previously, the stone house has been erroneously called the Ayre House; however, the Ayre's owned different property nearby.

<![if !supportEndnotes]>

---
<![endif]>