List of Blacks in Fairfax County, VA, 1866-1869
Based on Personal Property Tax Ledgers
Debbie Robison
January 2, 2017
The following chart is an extract from personal property tax ledgers of the number of black men age 21 years or older living in each African American household in Fairfax County, Virginia by year. The first year that former slaves were included on the Fairfax County Personal Property Tax ledger was 1866. Additional information available on the ledger includes the number and value of personal property items such as horses, cattle, watches, etc.

While some of the men listed on the chart may have lived in Fairfax for a number of years and were added to the tax ledger when they reached 21 years old, most of the additions to the chart are due to men moving into the county. A large increase in the number of men included on the tax ledger for Fairfax County occured in 1868 and 1869. The men who moved to Fairfax County might be listed in other Virginia counties for 1866 and 1867; therefore, it may be possible to determine where these men lived previously.

In 1869, the tax ledger noted where the men resided, where they were employed, or the name of their employer. This category was included on the 1868 form, but was not completed by the Fairfax County Commissioner of Revenue.

Prior to the formation of townships in 1870 when Virginia re-entered the Union, Fairfax County was divided into a Northern District and Southern District for tax purposes.

NOTE: You cannot assume that a row in the chart pertains to the same man, only that a man with that name was taxed that year.
Northern District
| | | | | | |
| --- | --- | --- | --- | --- | --- |
| Name of Person | 1866 | 1867 | 1868 | 1869 | 1869 Location |
| Shedrick Anderson | 1 | 1 | 1 | | |
| Simon Alexander | 1 | 1 | 1 | 1 | Maj Williams' |
| William Ashton | 1 | 1 | 1 | 1 | Langley |
| George Adams | | 1 | 1 | 1 | Near Seminary |
| William Ashland | | 1 | 1 | | |
| William Ashton | 1 | | 1 | | |
| William Ashton Jr | | | 1 | | |
| John Alexander | | 1 | 1 | 1 | J. N. Roger's |
| James Alexander | | 1 | 1 | | |
| Armestead Ashton | | 1 | 1 | | |
| John Alexander | | 1 | | 1 | Falls Church |
| John Alexander Jr | | | 1 | | |
| Kinny Ashton | | 1 | | | |
| Frank Ashley | | | 1 | | |
| George Anderson | | | 1 | 1 | Near C House |
| Lewis Albery | | | 1 | | |
| William Austin | | | 1 | | |
| John Anderson | | | 1 | 1 | Langley |
| William Henry Allison | | | | 1 | Vienna |
| Henry Ambris | | | | 1 | John Doherty's |
| Walter Ashton | | | | 1 | Langley |
| Wallace Ashton | | | | 1 | above Herndon |
| Samuel Bradford | 1 | | 1 | | |
| Edmond Brown | 1 | | 1 | 1 | above Herndon |
| Edward Ball | | 1 | 1 | | |
| Isaiah Bonner (Barner) | 1 | 1 | 1 | 1 | John Crocker's |
| William Brown | 1 | 1 | 1 | | |
| William Blackwell | 1 | 1 | 1 | 1 | John Crocker's |
| Thomas Blackwell | 1 | 1 | 1 | | |
| Thomas Bracoon | 1 | 1 | 1 | | |
| Newton Ball | 1 | 1 | 1 | 1 | |
| Stephen Bowman | 1 | 1 | 1 | 1 | J. Gray's |
| Frank (Franklin) Branch | 1 | 1 | 1 | 1 | Mrs Newton's |
| Joseph Brooks | 1 | 1 | 1 | | |
| Mahlon Banyon | 1 | 1 | | | |
| Wyatt Brown | 1 | 1 | | | |
| John Butler | 1 | 1 | 1 | 1 | G. Auld's |
| Simas (Timers)Bailey | 1 | 1 | 1 | | |
| William Buckner (Buckney) | 1 | 1 | 1 | | |
| Henry Beverly | | 1 | 1 | 1 | J. Crocker's |
| James Brooks | | 1 | 1 | 1 | Wm Ball's |
| Andrew Bryce (Brice) | | 1 | 1 | 1 | George Walter's |
| Nathan Briggs | | 1 | 1 | | |
| Frank Brown | | 1 | 1 | | |
| Charles Berkley (Burkley) | | 1 | 1 | | |
| Lewis Baltimore | | 1 | | | |
| John Brown | 1 | 1 | 1 | 1 | Thornton's Station |
| Samuel Bowman | 1 | 1 | | 1 | Mrs Jones' farm |
| Henry Burnett | 1 | 1 | 1 | | |
| Henry Butler | 1 | 1 | 1 | 1 | Mason's Hill |
| Henry Butler Jr | 1 | 1 | | | |
| John Butler | 1 | 1 | | | |
| James Brooks | 1 | 1 | 1 | | |
| Soloman Burrels (Burles) | 1 | 1 | | 1 | A. Willcoxon's |
| Henry Brooks | | 1 | 1 | | |
| Franklin Banks | | | 1 | | |
| Washington Baily | | | 1 | 1 | A. Peacock's |
| Gustavus Burke | | | 1 | | |
| Dennis Berry | | | 1 | 1 | C. H. Bramhall's |
| Richard Bonner (Barner) | | | 1 | 1 | Mary A Reid's |
| Jerry Banks | | | 1 | | |
| Jesse Bush | | | 1 | | |
| Henry Banks | | | 1 | 1 | Barcroft's Mill |
| William Botts | | | 1 | 1 | B Higgs' |
| John Butts | | | 1 | | |
| Robert Burns | | | 1 | | |
| James Boswell | | | 1 | | |
| William Broadus | | | 1 | | |
| William Burke | | | 1 | 1 | above Langley |
| George Brown | | | 1 | 1 | Near Herndon |
| Reubin Bevrley (Burley) | | | 1 | 1 | James Welch's |
| Frederick Brooks | | | 1 | | |
| Madon Brown | | | 1 | | |
| Joseph Burke | | | 1 | | |
| John Baugus (Burges) | | | 1 | 1 | John Cockille's |
| Eli Blackwell | | | 1 | 1 | Levi Parker's |
| Maddison Brooks | | | 1 | | |
| Henry (Harry) Bush | | | 1 | 1 | Charles Fortney's |
| Lewis Belle (Bell) | | | 1 | 1 | Langley |
| George Brice | | | 1 | 1 | Falls Church |
| George Bland | | | 1 | 1 | Falls Church |
| Isaac L Bonner | | | 1 | | |
| Nelson Brice | | | 1 | | |
| Austin Berkley | | | 1 | | |
| Samuel Bird Jr | | | 1 | | |
| Ludwell Brown | | | 1 | | |
| Anthony Burrell | | | 1 | | |
| Samuel Broan | | | 1 | | |
| Trim Banks | | | 1 | | |
| Lewis Beverly | | | 1 | 1 | G. S. Gunnell's |
| Lott (Lot) Buckland (Bucklam) | | | 1 | 1 | above Lewinsville |
| Samuel Berd | | | 1 | | |
| Samuel Burt | | | | 1 | B. F. Shreeve's |
| Tecamse Brent | | | 1 | | |
| Benjamin Brent | | | 1 | | |
| George Bowman | | | 1 | 1 | Herndon |
| Denis Butler | | | 1 | | |
| Henry Brice | | | 1 | | |
| George J Brown | | | 1 | | |
| John Branham | | | 1 | | |
| Morler Brown Jr | | | 1 | | |
| George Bland | | | 1 | | |
| Thomas Brooke | | | 1 | | |
| Nutt Brown | | | 1 | | |
| Samuel Brown | | | 1 | | |
| John Brown | | | 1 | 1 | Robert Cunningham's |
| David Bailey | | | | 1 | Mrs F Fitzhugh's |
| Stephen Bailey | | | | 1 | Mrs F Fitzhugh's |
| Thomas Brooks | | | | 1 | C. W. Turley's |
| Edward Brooks | | | | 1 | M. A. Cummings' |
| John Brown | | | | 1 | C. H. Bramhall's |
| Abraham Burnley | | | | 1 | Seminary |
| Jackson Bryan | | | | 1 | William Cleveland's |
| Joshua Ball | | | | 1 | R. Chichester's |
| Milo Brown | | | | 1 | Fothin's land |
| Mac Brown | | | | 1 | Fothin's land |
| Creed Bland | | | | 1 | William Cockerille's |
| John Banyon | | | | 1 | Mason's Hill |
| Taylor Butler | | | | 1 | Mason's Hill |
| Isaah Birch | | | | 1 | Springvale |
| Mark Baker | | | | 1 | M O'Brien's |
| Joseph Brown | | | | 1 | Lee's tollgate |
| William Botts | | | | 1 | D G Watkin's |
| John Brown | | | | 1 | Rs Cunningham's |
| Robert Castom | 1 | | | | |
| Robert Corbin | 1 | | 1 | 1 | High School |
| Jesse Clarke (Clark) | 1 | 1 | 1 | 1 | F. Harrison's |
| Robert Clemings (Clemons) | 1 | 1 | 1 | | |
| Gus Carter | 1 | 1 | 1 | 1 | Vienna & Langley road |
| Robert Carter | 1 | 1 | 1 | | |
| Robert Carter & son | | | | 2 | Near Vienna |
| Robert Corbin | | 1 | | | |
| Charles Curchurn (Churchwood) | | 1 | 1 | | |
| Robert Coston (Castom)(Casten) | 1 | 1 | 1 | | |
| Cato Cooper | 1 | 1 | 1 | | |
| Nelson Corbin | 1 | 1 | 1 | 1 | Seminary |
| Edmond Cary (Carey) | 1 | 1 | 1 | | |
| Thomas Collins | | | 1 | 1 | T. Gaskins |
| Cyrus Carter | | | 1 | 1 | John Crocker's |
| Frederick Cook | | | 1 | 1 | C. J. Gilbert's |
| John Corbill | | | 1 | | |
| Aaron Cole | | | 1 | | |
| Richard Cosby | | | 1 | 1 | Mason's Hill |
| John Carter | | | 1 | 1 | Freedom Hill |
| James Coats | | | 1 | 1 | At Wrenn's |
| Alfred Carter | | | 1 | 1 | Freedom Hill |
| John T Chinn | | | 1 | | |
| Eunac (Enock) Carter | | | 1 | 1 | Wm Beers' |
| Stephen Cross | | | 1 | 1 | Seminary |
| Robert Cory | | | 1 | | |
| Moses Corbin | | | 1 | | |
| Jacob Cary | | | 1 | | |
| Samuel Clemons | | | 1 | | |
| George Carmul | | | 1 | | |
| Alfred N Carter | | | 1 | | |
| Augustin Carter | | | 1 | | |
| Spindle Collins | | | 1 | 1 | William Arnold's |
| William Campbell | | | 1 | | |
| James Commander | | | 1 | | |
| William H Carpenter | | | 1 | | |
| Alfred Carter | | | 1 | 1 | M. D. Ball's land |
| John Clarke | | | 1 | | |
| John Curray | | | 1 | | |
| Lewis Carter | | | | 1 | R. Porter's |
| Henry Clay | | | | 1 | Swink's farm |
| Lee Currey | | | | 1 | Sandford Gorham's |
| Jordon Carter | | | | 1 | Vienna |
| William Caotwright | | | | 1 | Vienna |
| Jesse Champe | | | | 1 | George Auld's |
| Lee Curtis | | | | 1 | Follin's land |
| Jeff Carter | | | | 1 | J. McGarrity's |
| John Currey | | | | 1 | Mason's Hill |
| Wyatt N Carter | | | | 1 | Bailey's X Roads |
| George Carle | | | | 1 | Falls Church |
| Albiet Cloyd | | | | 1 | M. D. Ball's land |
| John Colts | | | | 1 | McGhee's farm |
| Charles Colts | | | | 1 | McGhee's farm |
| John Carter | | | | 1 | Near John Adams |
| Henry Carter | | | | 1 | Near Herndon |
| Milford Diggs | 1 | 1 | 1 | | |
| Lorenzo Dow (Dowe) | 1 | 1 | 1 | | |
| Reid Dobson | 1 | 1 | 1 | 1 | Mrs Jones' farm |
| Dennis Dooling | 1 | | | | |
| Daniel Dackinson | 1 | | | | |
| David Duncan | 1 | | 1 | 1 | |
| Dennis Dulin | | 1 | 1 | | |
| Daniel Darkinson | | 1 | 1 | | |
| David Dunear | | 1 | | | |
| Charles Dobson | | 1 | 1 | 1 | Freedom Hill |
| Isaac Daniels | | 1 | 1 | 1 | Follin's Land |
| Robert (Burt) Dobson | | 1 | 1 | 1 | Richard Follin's |
| George Dorrel | | 1 | | | |
| William Day | | 1 | 1 | | |
| John Dailey | | 1 | 1 | | |
| Jonathan Dobson | 1 | 1 | 1 | | |
| Henry Denny | | 1 | 1 | | |
| Whitely Dixon | | | 1 | | |
| Daniel Dorcus | | | 1 | | |
| Thomas Day | | | 1 | 1 | Shuter's Hill |
| Stephen Dolly | | | 1 | | |
| Nimrod Dixon | | | 1 | 1 | D McC Chichester's |
| Richard Dennis | | | 1 | 1 | A. C. Tolson's |
| Levi Dorsey | | | 1 | 1 | William Rall's |
| Henry Dixon | | | 1 | | |
| George Deny | | | 1 | | |
| James Derrick | | | 1 | | |
| Lewis Dudley | | | 1 | 1 | J. Crocker's |
| Reuben Dickins | | | 1 | | |
| Edward Dillard | | | 1 | | |
| Nathan Dixon | | | 1 | 1 | Seminary |
| Jackson Dorcus | | | 1 | | |
| Abraham Davis | | | 1 | 1 | George W. Williams' |
| William Dixon | | | 1 | | |
| Steptoe Dalby | | | | 1 | W J Reid's |
| David Day | | | | 1 | Seminary |
| Isaac Denting | | | | 1 | John Adams' |
| Frank Dell | | | | 1 | L. P. Dennison's |
| Richard Dent | | | | 1 | A. Gardiner's |
| Nick Dorsey | | | | 1 | T. J. Peacock's |
| Jackson Dixon | | | | 1 | Mary C. Sanders' |
| Levi Dorsey | | | | 1 | Sandford Robinson's |
| David Dorsell | | | | 1 | E. O. Powell's |
| A Davis | | | | 1 | O. R. Hunt's |
| Augustine Dobson | | | | 1 | Near Langley |
| Isreal Denton | | | | 1 | Freedom Hill |
| John Dickson | | | | 1 | C. L. Stewart's |
| Charles Dean | | | | 1 | Swink's farm |
| Charles Dade | | | | 1 | J. P. Barlow's |
| Austin Dusette | | | | 1 | C. H. Bramhall's |
| William Edwards | 1 | 1 | 1 | 1 | John Crocker's |
| Adam Everhart | | 1 | 1 | | |
| Henry Eskridge | | | 1 | 1 | |
| Weldon Edwards | | | 1 | 1 | near Seminary |
| John E Elkins | | | 1 | | |
| John Elkins | | | | 1 | near Springvale |
| John Ellett | | | 1 | | |
| Nathen Edmonds | | | 1 | | |
| William Edmunds | | | | 1 | P. H. Hoogg's land |
| Edward Edmunds | | | | 1 | George White's |
| Milton Edmunds | | | | 1 | John Crocker's |
| Samuel Eskins | | | | 1 | Near Fort Massie |
| Thomas Fox | | 1 | | 1 | Joseph Brown's |
| William Foote | | 1 | 1 | 1 | Falls Church |
| John Frontroyal | | 1 | 1 | | |
| James Ferguson | 1 | 1 | 1 | 1 | C. House |
| Samuel Ferguson | | 1 | 1 | | |
| David Fraxious | | 1 | | | |
| James Fields | 1 | 1 | 1 | 1 | A. L. & H R. Road |
| Green (Greene) Farr (Griene Faro) | 1 | 1 | 1 | 1 | Langley |
| Gawin Farr | | | | 1 | near Falls Church |
| James Fox | 1 | 1 | 1 | 1 | Near Langley |
| William Ford | 1 | 1 | 1 | 1 | Farnsworth's farm |
| James Ford | 1 | 1 | 1 | 1 | Near Langley |
| Charles Frinks | 1 | 1 | 1 | | |
| Oscar Ford | | | 1 | 1 | Near Fort Massie |
| Richard Flynn | | | 1 | 1 | Near Seminary |
| Peter Fox | | | 1 | 1 | Near Langley |
| Kendrick French | | | 1 | | |
| Frank Foot (Foote) | | | 1 | 1 | Falls Church |
| Joseph Ford | | | 1 | 1 | |
| Joseph Ford Jr | | | 1 | 1 | Falls Church |
| William Fanly | | | 1 | | |
| Gibon (Gibson) Fitzhugh | | | 1 | 1 | Stalcup's farm |
| Frederick Foote | | | 1 | 1 | Mrs Fitzhugh's |
| Thomas Fainy (Finney) | | | 1 | 1 | Mrs A Gooding's |
| John Fox | | | 1 | | |
| Peter Fox Jr | | | 1 | | |
| F F Foote | | | 1 | | |
| James Faulkner | | | 1 | | |
| Lewis Ferguson | | | 1 | 1 | Great Falls |
| Nelson Fisher | | | 1 | 1 | A. L. & H R. Road |
| David Fracious | | | 1 | | |
| Isaac Ford | | | | 1 | J. E. Murray's |
| Peter Forcett | | | | 1 | J. G. Smoot's |
| Aaron Fields | | | | 1 | John Rowzie's |
| James Fortner | | | | 1 | B. Clock's |
| James Frizzle | | | | 1 | Thornton's Station |
| William Ford | | | | 1 | A. L. & H. R. road |
| James Fortney | | | | 1 | Springvale |
| Robert Gunnell | 1 | 1 | 1 | 1 | Langley |
| Lewis Goings | 1 | 1 | 1 | | |
| Charles Gaskins | 1 | 1 | 1 | 1 | Falls Church |
| William Grayson | 1 | 1 | 1 | | |
| Pleasant Green (Greene) | 1 | 1 | 1 | 1 | Near Seminary |
| Warner Garner | 1 | 1 | 1 | 1 | High School |
| John H Green (Greene) | 1 | | 1 | | |
| John Greene | | | | 1 | Falls Church |
| John Greene | | | | 1 | Near Seminary |
| George Green (Greene) | 1 | 1 | | 1 | Langley |
| George Green Jr | | | 1 | | |
| George Greene | | | | 1 | John Crocker's |
| Daniel Green (Greene) | 1 | 1 | 1 | 1 | pringvale |
| Jerre (Jerry) Glascoe | | 1 | 1 | | |
| Isaac Gordon | | 1 | 1 | 1 | Langley |
| Thomas Garner | | 1 | | | |
| Walter Griffin | | | 1 | 1 | Langley |
| Willis Gaskins | | | 1 | 1 | Arthur Gunnell's |
| Thomas Green | | | 1 | | |
| Peter Gibson | | | 1 | 1 | Falls Church |
| George Grigsby | | | 1 | | |
| Andrew Gains (Gaines) | | | 1 | 1 | Mason's Hill |
| Henry Generals | | | 1 | | |
| Nathan (Nathaniel) Gaskins | | | 1 | 1 | Mrs Jone's farm |
| Alfred Gibson | | | 1 | | |
| William G Gray | | | 1 | | |
| William Gray | | | | 1 | Langley |
| Peter Gillam | | | 1 | | |
| Scott Gibson | | | | 1 | Thornton's farm |
| Stanfield Gaskins | | | | 1 | E Fitzhugh's Shop |
| Joseph Gillian | | | | 1 | R. Criukshank's |
| Rezin Generals | | | | 1 | Fort Massie |
| Thomas Goings | | | | 1 | E. W. Birch's |
| Henry Gibson | | | | 1 | John Seybold's |
| Aaron Gibson | | | | 1 | West End |
| A A Gaines | | | | 1 | Falls Church |
| Horace Gibson | | | | 1 | W H Goodings |
| Lewis Goings | | | | 1 | T. J. Carter's |
| Albert Garner | | | | 1 | Walker's Mill |
| William Honesty | 1 | 1 | 1 | 1 | A. Leigh's |
| Seaton Harris | 1 | 1 | 1 | | |
| William Harper | 1 | 1 | 1 | 1 | Vienna |
| Henry Harrison | 1 | 1 | 1 | | |
| Albert Henderson | 1 | 1 | 1 | 1 | Near Old C. House |
| Albert Harris | | 1 | 1 | 1 | Langley |
| Henry Handy | | 1 | 1 | | |
| George Hughs | | 1 | 1 | | |
| Edward Harris | | 1 | 1 | | |
| Charles Harris | | 1 | 1 | 1 | Wesley Hall's |
| Charles W Harris | | | 1 | | |
| Charles Hunter | 1 | 1 | | | |
| William Hamilton | | 1 | 1 | | |
| Sandy Hooge | | 1 | | | |
| Edmund Hill | | | 1 | | |
| William Henry | | | 1 | | |
| John Hackley | | | 1 | 1 | West End |
| Joseph Helm | | | 1 | 1 | West End |
| Tobias Holman | | | 1 | | |
| John Harris | | | 1 | | |
| Washington Hunter | | | 1 | 1 | Vancluse |
| Simon Harold | | | 1 | | |
| Samuel Hidge | | | 1 | | |
| Thomas Harrison | | | 1 | | |
| Charles Headley | | | 1 | | |
| Thomas Harris | | | 1 | 1 | Falls Church |
| Robert Holland | | | 1 | | |
| Peter Hutchison | | | 1 | | |
| John Hansborough | | | 1 | | |
| William Hall | | | 1 | | |
| William H Hall | | | | 1 | Robert Parker's |
| Richard Hall | | | 1 | 1 | Sarah Smith's land |
| Henry Harper | | | 1 | | |
| James Hunter | | | 1 | | |
| Flemming Hurney (Haney) | | | 1 | 1 | Thornton's Mill |
| Richard Humphreys | | | 1 | | |
| William Hatcher | | | 1 | 1 | F. Sherman's |
| Jerry Hamilton | | | 1 | | |
| Courtney Honesty | | | 1 | | |
| Charles Honesty | | | 1 | | |
| William Haystock | | | 1 | | |
| William Haislock | | | | 1 | Fort Massie |
| Simon Harris | | | | 1 | Fort Ward |
| James Hinchley | | | | 1 | A. G. Gardiner's |
| Lumsley Hall | | | | 1 | |
| Philip Harper | | | | 1 | Jere: Moore's |
| Henry Harris | | | | 1 | Fort Massie |
| William Harris | | | | 1 | Fort Massie |
| Jefferson Harris | | | | 1 | Fort Massie |
| Joseph Hill | | | | 1 | |
| Charles Hill | | | | 1 | Thornton's Mill |
| Thomas Harris | | | | 1 | T. S. Wrenn's |
| Thomas M Harris | | | | 1 | Falls Church |
| Robert J Hall | | | | 1 | Langley |
| Rufus Hughes | | | | 1 | Freedom Hill |
| George Honesty | | | | 1 | John Powell's |
| Simon Harrison | | | | 1 | E. McNerhany's |
| Dennis Johnson | 1 | 1 | 1 | 1 | above Centreville |
| John Jackson | 1 | 1 | 1 | 1 | E. C. Fitzhugh's |
| John W Jackson | | | 1 | | |
| George Johnson | 1 | 1 | | | |
| Temple Jackson | 1 | 1 | 1 | 1 | Thornton's Mill |
| Fleming Johnson | 1 | 1 | 1 | 1 | Lewinsville |
| Fleming Johnston | | | | 1 | Lewinsville |
| Oscar Jackson | 1 | 1 | 1 | | |
| Joseph Jackson | 1 | 1 | 1 | | |
| Elias Jamieson | 1 | 1 | 1 | 1 | West End |
| Samuel Jones | 1 | 1 | 1 | | |
| James Jones | 1 | 1 | 1 | 1 | Mrs Jane Jackson's |
| William Jackson | 1 | 1 | 1 | | |
| Emanuel Jackson | 1 | 1 | 1 | 1 | Ball's land |
| James Jones Jr | 1 | 1 | | | |
| Tecumseh Jackson | 1 | 1 | 1 | | |
| Rezin Jennings | | 1 | 1 | | |
| Samuel Johnson | | 1 | 1 | | |
| Mack Jackson | | 1 | 1 | | |
| Jacob Jackson | | 1 | 1 | 1 | Charles Lee's |
| Charles Jackson | | 1 | 1 | | |
| Dallas Jackson | | 1 | 1 | 1 | O. R. Huntt's |
| Frank Johnson | | 1 | 1 | | |
| Charles Johnson | | 1 | 1 | 1 | Falls Church |
| David Johnson | | | 1 | 1 | Joseph Birch's |
| Ephraim Johnson | | | 1 | | |
| Emanuel Johnson | | | 1 | | |
| Thomas Johnson | | | 1 | | |
| Alexander Jackson | | | 1 | | |
| Henry Johnson | | | 1 | | |
| Alfred Johnson | | | 1 | | |
| Moses Jackson | | | 1 | 1 | G. Auld's |
| Joseph Jona | | | 1 | | |
| Ennis Jackson | | | 1 | | |
| John Johnson | | | 1 | | |
| Alfred Jackson | | | 1 | 1 | Anthony Harding's |
| Cesear Julius | | | 1 | 1 | Mason's Hill |
| James Jackson | | | 1 | 1 | Seminary |
| Joseph Jinicks | | | 1 | | |
| John Jackson | | | 1 | 1 | |
| Albert Johnson | | | 1 | | |
| David Jones | | | 1 | 1 | West End |
| Frank Johnson | | | 1 | | |
| Henry Johnson | | | 1 | | |
| Joseph Johnson | | | 1 | | |
| Lewis Jackson | | | | 1 | Dranesville |
| Andrew Jackson | | | | 1 | Mason's Hill |
| William Johnson | | | | 1 | M. O'Brien's |
| James Jackson | | | | 1 | High School |
| Moses Jones | | | | 1 | B. F. Shreeve's |
| John Jones | | | | 1 | William Tucker's |
| Walker Jones | | | | 1 | |
| Manly Johnson | | | | 1 | J. P. Barlow's |
| Albert Johnston | | | | 1 | Thornton's Mill |
| Jerry Johnson | | | | 1 | William Walter's |
| Silas Johnston | | | | 1 | John Rowzies |
| Tenley Jannings | | | | 1 | Great Falls |
| Andrew Jackson | | | | 1 | Thornton's Mill |
| Andrew Jackson Jr | | | | 1 | Thornton's Mill |
| Lorenzo Johnson | | | | 1 | C House |
| Frank Johnston | | | | 1 | Charles Binn's |
| George Johnston | | | | 1 | Swink's farm |
| Alfred Johnston | | | | 1 | Sewell's farm |
| William Jones | | | | 1 | Sewell's farm |
| Henry Jackson | | | | 1 | D H Barrett's |
| Anse Jones | | | | 1 | F. J. Carper's |
| Samuel Johnson | | | | 1 | W. Mackall's |
| James Jackson | | | | 1 | E. C. Fitzhugh's |
| Mack Kelly (Kelley) | | | 1 | 1 | Besley's Mill |
| Hiram Kinmer (Huron Kinner) | | | 1 | 1 | Lincoln Village |
| Henry Clock | | | | 1 | Henry McGhee's |
| James Kerford | | | | 1 | R Sherwood's |
| Joseph H Lewis | | 1 | | | |
| William Lucas | | 1 | 1 | 1 | John Mulholland's |
| Henry Lucas | | 1 | | | |
| Henry Lucas Jr | | | 1 | | |
| Andrew Lee | | 1 | 1 | 1 | |
| Stephen Lee | | 1 | 1 | 1 | Langley |
| Henry Lewis | | 1 | | | |
| Williamm Lincoln | 1 | 1 | 1 | | |
| William Lewis | 1 | 1 | 1 | 1 | D. S. Gordon's |
| Watkins Lee | 1 | 1 | 1 | | |
| Jerry Lynch | 1 | 1 | 1 | | |
| George Lewis | 1 | 1 | 1 | | |
| James Lane (Layne) | 1 | 1 | 1 | | |
| William Lane (Layne) | 1 | 1 | 1 | | |
| William Lee | 1 | 1 | 1 | 1 | J Crocker's land |
| Harry Lewis | 1 | | 1 | | |
| John Luckett | | 1 | 1 | | |
| Beverly Limins | | | 1 | | |
| Charles Lee | | | 1 | 1 | Falls Church |
| Henry Lyles | | | 1 | | |
| Spencer Lee | | | 1 | | |
| James Lee | | | 1 | 1 | Falls Church |
| Mack Lenis | | | 1 | | |
| Stephen Lenis | | | 1 | | |
| Dennis Lee | | | 1 | | |
| John Linis | | | 1 | | |
| George Luckitt | | | 1 | | |
| Benjamin Lewis | | | 1 | 1 | Falls Church |
| Joney Lynch | | | 1 | | |
| Henry Lymus | | | 1 | | |
| Lawrence Lucus | | | 1 | | |
| Philip Lucit (Luckett) | | | 1 | 1 | E. Galphin's |
| George Lane | | | 1 | | |
| Thomas Lee | | | 1 | | |
| John J Lewis | | | 1 | | |
| William Lucus Jr | | | 1 | | |
| Stephen Lee Jr | | | 1 | | |
| James H Lewis | | | 1 | | |
| Henry Luckit | | | 1 | | |
| Alfred Lewis | | | | 1 | Vanderwerken's |
| Henry and John Lewis | | | | 2 | Rumsey's land |
| Thomas Leak | | | | 1 | Thornton's Mill |
| James Lever | | | | 1 | |
| Thomas Lockery | | | | 1 | Alex Haight's |
| Stephen Lewis | | | | 1 | George Williams |
| Anthony Lewis | | | | 1 | West End |
| Garrett Lewis | | | | 1 | Thornton's Mill |
| Alexander McGraw (Magraw) | 1 | 1 | 1 | | |
| John Monroe | 1 | 1 | 1 | 1 | J. P. Barlow's |
| Titus Milliner | 1 | 1 | 1 | 1 | Going's tollgate |
| John H Mason | 1 | 1 | 1 | | |
| Edward Minor | 1 | 1 | 1 | | |
| Joseph Mannell (Manel) | 1 | 1 | 1 | | |
| Alfred Moore | 1 | 1 | 1 | | |
| Henry Moore | 1 | 1 | 1 | | |
| William Moore | 1 | 1 | 1 | | |
| Wallace Moore | 1 | | | | |
| John Mason | 1 | 1 | 1 | | |
| John Middleton | 1 | 1 | | 1 | C House |
| Frank Morton | | 1 | | 1 | John Crocker's |
| Thomas Marshall | | 1 | 1 | | |
| Edward Minor Jr | | 1 | 1 | | |
| Joseph Moore | | 1 | 1 | | |
| W H Middleton | | | 1 | | |
| Walter Middleton | | | | 1 | Falls Church |
| William Massey | | | 1 | 1 | Fort Ward |
| Michael Minor | | | 1 | | |
| Anthony Maze | | | 1 | | |
| William Minor | | | 1 | | |
| Henry Meyer | | | 1 | | |
| Robert Mickens | | | 1 | | |
| Peter Mills | | | 1 | 1 | F. M. Fitzhugh's |
| Daniel Monroe | | | 1 | 1 | J. F. Dyer's |
| Royal Moloney | | | 1 | | |
| Allenzo (Alonzo) Massey | | | 1 | 1 | E Galpin's |
| Samuel Mathern | | | 1 | | |
| Jesse Middentree | | | 1 | | |
| William Monroe | | | 1 | 1 | J. P. Barlow's |
| Charles Murray | | | 1 | 1 | C. L. Stuart's |
| Edward Massey | | | 1 | 1 | Amanda Gooding's |
| John Miller | | | | 1 | |
| Smith Mason | | | | 1 | E. C. Reid's |
| Stafford Moorney | | | | 1 | Mrs LeFevre's |
| Patton Mills | | | | 1 | Mrs Gale's |
| Richard Miller | | | | 1 | S T Lucket's |
| Henry Miles | | | | 1 | Margaret Connor's |
| John Miller | | | | 1 | Mrs. McGuire's |
| Edward Moseley | | | | 1 | John Crocker's |
| William Madden | | | | 1 | West End |
| Henry Malvern | | | | 1 | Lee's tollgate |
| James Moore | | | | 1 | Blacksmith |
| Wallace Moore | | | | 1 | Blacksmith |
| Alfred Moore | | | | 1 | Blacksmith |
| Smith Mason | | | | 1 | W. J. Reid's |
| William Mills | | | | 1 | Mrs Jones' farm |
| John McPherson | | | | 1 | G Whaley's |
| Henry Nickens | 1 | 1 | 1 | 1 | Sandford Gorham's |
| Isham Newman | 1 | 1 | 1 | | |
| Thomas Nelson | 1 | 1 | | 1 | C House |
| Abner Newman | | 1 | 1 | 1 | John Wrenn's |
| John Newman | | 1 | 1 | 1 | John Wrenn's |
| Henry Newman | | | 1 | | |
| William Nutt | | | 1 | 1 | Mason's Hill |
| Benjamin Newton | | | 1 | 1 | Falls Church |
| Joseph Neil (Neale) | | | 1 | 1 | Mr Reynolds |
| Richard Nelson | | | | 1 | Mason's Hill |
| James Nickens | | | | 1 | Chantilly |
| Hezekiah Nickens | | | | 1 | Chantilly |
| Aaron Newell | | | | 1 | Fort Massie |
| John Nugent | | | | 1 | Mrs Dushane's |
| Robert Nickens | | | | 1 | West End |
| Alfred Odrick | | | 1 | 1 | Col Gunnel's |
| Willis Orrick | | | 1 | | |
| Richard Odrick | | | | 1 | M D Ball's land |
| Lee Pierson (Pearson) | 1 | 1 | 1 | | |
| Levi Pearson | | | | 1 | E. O. Powell's |
| James Page | 1 | 1 | 1 | | |
| Abraham Pieres (Preace)(Pearce) | 1 | 1 | 1 | | |
| William Perry | 1 | 1 | 1 | 1 | Falls Church |
| Leroyal (LeRoy) Philips | 1 | 1 | 1 | 1 | Vancluse |
| Thomas Payne | | 1 | 1 | | |
| Samuel Payne | | 1 | 1 | | |
| Henry Pierson (Pearson) | | 1 | 1 | | |
| Henry Parker | | 1 | 1 | 1 | Sayre's farm |
| Washington Pratt | | | 1 | | |
| Charles Pearson | | | 1 | 1 | Fort Massie |
| Gile Paynes | | | 1 | | |
| Willoughby Payne | | | 1 | | |
| Willoughby W Payne | | | 1 | | |
| Griffin Parks | | | 1 | | |
| William Page | | | 1 | | |
| Richard Pearson | | | 1 | 1 | E. O. Powell's |
| William Pattiner | | | 1 | | |
| William Patterson | | | | 1 | Langley |
| Ger Pollard | | | 1 | | |
| John Pickett | | | 1 | | |
| John P Pinckart | | | | 1 | Mason's Hill |
| Richard Payne | | | 1 | 1 | Langley |
| Benedick Pierson | | | 1 | | |
| Isaac Peyton | | | | 1 | |
| John Parks | | | | 1 | A. E. Alford's land |
| Armistead Peyton | | | | 1 | Nancy Wooster's |
| Emanuel Pine | | | | 1 | West End |
| Sandy Pearson | | | | 1 | Mansen's farm |
| Robert Parker | | | | 1 | J Crocker's |
| Moses Parker | | | | 1 | W H Gooding's |
| George Payne | | | | 1 | M. C. Munson's |
| Armistead Pearson | | | | 1 | P Cunningham's |
| John Perkins | | | | 1 | Fort Ward |
| James Pearson | | | | 1 | C House |
| William Perkins | | | | 1 | A. L. & H R.R. |
| Adam Quander | | | 1 | | |
| Frank Quinn | | | 1 | | |
| Stephen Runner | 1 | 1 | | | |
| John Ross | 1 | 1 | 1 | | |
| Miner Roy | 1 | 1 | 1 | | |
| Sanford Robinson | 1 | 1 | | | |
| Fielder Robinson | 1 | 1 | | | |
| Fielder Robertson | | | 1 | | |
| Jacks (Jack) Roe | 1 | 1 | | 1 | C House |
| John Rasfrus (Raspus) | | 1 | 1 | | |
| Jacob Ransle | | 1 | 1 | | |
| John Roe (Rowe) | | 1 | 1 | | |
| John Roles | | | | 1 | Near C House |
| Lewis Roe (Rowe) | | 1 | 1 | 1 | Langley |
| Scott Robinson | | 1 | | | |
| Scott Roberson | | | 1 | | |
| Frederick Russ | | 1 | | 1 | Fort Massie |
| Frederick Rusk | | | | 1 | Lee's tollgate |
| Frederick Ross | | | 1 | 1 | Lee's tollgate |
| Silas Richards | | | 1 | | |
| Daniel Richards | | | 1 | 1 | Falls Church |
| Thomas Robey | | | 1 | | |
| James Robertson | | | 1 | 1 | S. Robertson's |
| Wormley Richardson | | | 1 | | |
| Nimrod Roberson | | | 1 | | |
| Caleb C. Roy | | | 1 | 1 | Munson's |
| Jacob Roan | | | 1 | | |
| John Roberson | | | 1 | | |
| John Robertson | | | | 1 | Throckmorton's |
| John J Robertson | | | | 1 | Fort Massie |
| William Ren | | | 1 | | |
| Moses Riley | | | 1 | 1 | Benjamin Brady's |
| Benjamin Reynolds | | | 1 | | |
| George M Reach | | | 1 | | |
| George A Runnells | | | 1 | | |
| George Rummels | | | | 1 | Falls Church |
| Edward Rankins (Raukin) | | | 1 | 1 | Coon's farm |
| John R Rankins (Raukin) | | | 1 | 1 | Coon's farm |
| Charles Roberts | | | 1 | | |
| Baker Roberson | | | 1 | | |
| Nat Rose | | | 1 | | |
| Samuel Rapliss | | | 1 | | |
| Spencer Roy | | | | 1 | William Urich's |
| John Rogers | | | | 1 | Near Seminary |
| George Ransill | | | | 1 | D McC Chichester's |
| Cassius Rector | | | | 1 | D. Barrett's |
| Thomas Simms | | 1 | | | |
| Eli Simpson | | 1 | | | |
| Ferdinand Seals | 1 | 1 | 1 | 1 | |
| James B Shaw | 1 | 1 | 1 | | |
| Dennis Seals (Seale) | 1 | 1 | 1 | | |
| John Eli Seals (Seale) | 1 | 1 | 1 | | |
| Edward Smith | 1 | 1 | 1 | | |
| Samuel Sharper | 1 | 1 | 1 | 1 | Young's tollgate |
| John Stewart | 1 | 1 | 1 | | |
| Thomas W Sinkfield (Sicfield) | 1 | 1 | | 1 | J. J. Love's land |
| Burditt Stewart | 1 | 1 | 1 | | |
| Fenton Summers | 1 | 1 | 1 | 1 | Mason's Hill |
| Lewis Shorts | 1 | | 1 | 1 | Near Seminary |
| Herod Simms (Harad Simon) | 1 | 1 | 1 | | |
| Burr Shorts | 1 | 1 | 1 | 1 | Near Seminary |
| John Smith | 1 | 1 | 1 | 1 | |
| Morris Scott | 1 | 1 | 1 | | |
| Lewis Sipian (Sippian)(Scipio) | 1 | 1 | | 1 | Throckmorton's |
| Frank Stewart | 1 | 1 | 1 | | |
| Charles Scott | 1 | 1 | 1 | | |
| George Scott | | 1 | 1 | | |
| Cyrus Scott | | 1 | | | |
| John Smith | | 1 | | | |
| Travers Sorrel | | 1 | 1 | | |
| Jack Smith | 1 | 1 | | | |
| James Seale | | | 1 | | |
| Thomas Sillson | | | 1 | | |
| Charles Smith | | | 1 | | |
| Sandy Scott | | | 1 | 1 | Mason's Hill |
| Mitton (Milton) Shepherd | | | 1 | 1 | George H Terrett's |
| Moses Smith | | | 1 | | |
| Henry Summers | | | 1 | 1 | M. D. Ball's land |
| Benjamin Short (Shorts) | | | 1 | 1 | Near Seminary |
| John Strother | | | 1 | 1 | Mrs Newton's |
| William Smith | | | 1 | 1 | Dranesville |
| Samuel Summers | | | 1 | | |
| William H Stuart | | | 1 | 1 | |
| William Henry Stuart | | | | 1 | Mrs Newton's |
| Wilson Short | | | 1 | | |
| Jerry Smith | | | 1 | 1 | J. B. Bowman's |
| Abraham Scott | | | 1 | 1 | Sewell's farm |
| James J Seares | | | 1 | | |
| Moses Stewart | | | 1 | | |
| Isaac Summer (Summers) | | | 1 | 1 | Langley |
| Wearton Simpson | | | 1 | | |
| W S Simpson | | | | 1 | A. Willcoxen's |
| Watson Shelton | | | 1 | | |
| Henry Stuart | | | 1 | 1 | James Davis' Store |
| Spencer Seale | | | 1 | | |
| Henry Simms | | | 1 | 1 | Herndon |
| Philip Scott | | | 1 | | |
| Joseph Strooher | | | 1 | | |
| George Stafford | | | 1 | | |
| James M Seals | | | 1 | | |
| James W Seals | | | | 1 | N C Hunter's |
| Lewis Sipec | | | 1 | | |
| Thomas Singfield | | | 1 | | |
| Silas Scott | | | 1 | | |
| John Smith | | | 1 | | |
| Fenton Smmmers | | | 1 | | |
| John Smith | | | 1 | | |
| Anthony Stephens | | | 1 | | |
| Robert Scott | | | | 1 | Robert Cunningham's |
| Andrew Smith | | | | 1 | Bailey's X Roads |
| John Scott | | | | 1 | Mason's Hill |
| Thomas Stewart | | | | 1 | Vienna |
| Henry Smith | | | | 1 | Fred Foot's |
| John Samuels | | | | 1 | Nelson's land |
| Lewis Simms | | | | 1 | Capt Bixler's |
| Brown Sheppard | | | | 1 | Cloud's Mill |
| Thornton Smith | | | | 1 | West End |
| John Strander | | | | 1 | Mrs Newton's |
| Nelson Shipp | | | | 1 | Sewell's farm |
| Abraham Scott | | | | 1 | Sewell's farm |
| Edward Shorter | | | | 1 | J. Toneyson's |
| Joseph Speaks | | | | 1 | John Payne's |
| Albert Stanley | | | | 1 | J. Gray's |
| Wesley Starkes | | | | 1 | O. R. Huntt's |
| Simon Soudon | | | | 1 | Benjamin Higgs' |
| William Shelton | | | | 1 | John Rowzie's |
| Thomas Stuart | | | | 1 | Vienna |
| Abraham Smith | | | | 1 | Thornton's Mill |
| Albert Stuart | | | | 1 | Seminary |
| G H Smith | | | | 1 | |
| Edward Strother | | | | 1 | W D Sheppard's |
| Charles Taylor | | 1 | 1 | 1 | Thornton's Mill |
| Lewis Taylor | | 1 | 1 | 1 | Freedom Hill |
| James Taylor | 1 | | | 1 | Falls Church |
| James Twyman | 1 | 1 | 1 | | |
| Alfred Thornton | 1 | 1 | 1 | 1 | G. W. Gunnill's |
| Lewis Thomas | 1 | 1 | 1 | | |
| Richard Thomas | 1 | 1 | 1 | 1 | J Crocker's |
| Leman Tebbs (Tibbs) | 1 | 1 | | | |
| John Travers (Traverce) | 1 | 1 | 1 | | |
| Lewis Turner | 1 | 1 | 1 | | |
| Reuben Tyler | 1 | 1 | 1 | 1 | Mrs Newton's |
| John Tinner | 1 | 1 | 1 | 1 | Falls Church |
| John Tinner Jr | | | | 1 | Falls Church |
| Turner Toler (Toller) | 1 | 1 | 1 | | |
| William Taylor | 1 | 1 | | | |
| Richard (Dick) Turner | 1 | 1 | | | |
| David Thompson | | 1 | | 1 | Langley |
| James Tate | | 1 | 1 | | |
| Lewis Turner Jr | | 1 | 1 | | |
| William Tucker | | 1 | 1 | | |
| Isaac Taylor | | | 1 | 1 | A. Gunnell's |
| Andrew Tilman | | | 1 | | |
| Nat Thompson | | | 1 | | |
| William Turner | | | 1 | | |
| Edward Taylor | | | 1 | | |
| Joseph Turell | | | 1 | | |
| Joseph & Philip Terrell | | | | 2 | Seminary |
| Moses Taylor | | | 1 | | |
| John Taylor | | | 1 | | |
| Charles Thompson | | | 1 | | |
| Morton Thompson | | | 1 | | |
| Philip Terrell | | | 1 | | |
| Joseph Thompson | | | 1 | | |
| Sandy Treeman | | | 1 | | |
| W H Turner | | | 1 | | |
| Abraham Taylor | | | 1 | 1 | Lewinsville |
| Wilson Turner | | | 1 | 1 | Mrs Jane Jackson's |
| Edward Thompson | | | 1 | | |
| Edmund Thompson | | | | 1 | Near Vienna |
| Richard Thompson | | | 1 | | |
| Yancey Thompson | | | 1 | | |
| Ruben Thornton | | | 1 | | |
| Charles Thornton | | | 1 | | |
| Robert Timms | | | 1 | | |
| Alexander Tilman (Tillman) | | | 1 | 1 | J B Whiting's |
| Nelson Turner | | | 1 | | |
| Cyrus Timus | | | 1 | | |
| Fentain Tolirer | | | 1 | | |
| Charles H Tymus | | | 1 | | |
| Willis Tiller | | | 1 | | |
| Charles Tommins | | | 1 | | |
| Simon Tibbs | | | 1 | | |
| Willis Thompson | | | | 1 | Falls Church |
| George Thompson | | | | 1 | Langley |
| John Tippen | | | | 1 | Langley |
| William Thompson | | | | 1 | John Rowzie's |
| French Thompson | | | | 1 | John Rowzie's |
| Clinton Thomas | | | | 1 | J. Kolb's |
| William Thomas | | | | 1 | Seth Osburn's |
| George Thomas | | | | 1 | L. Lloyd's |
| Alfred Thomas | | | | 1 | Freedom Hill |
| Charles Tinner | | | | 1 | Falls Church |
| Willis Thomas | | | | 1 | Fred Foote's |
| Charles Taylor | | | | 1 | Mills' X Roads |
| Edmund Taylor | | | | 1 | Mason's Hill |
| Bazil Turner | | | | 1 | A. L. & H. R. R. |
| Gilas Tinen | | | | 1 | J. M. Follin's |
| Henry Valentine | 1 | 1 | 1 | 1 | West End |
| Thomas Williams | 1 | 1 | | | |
| Richard Watson | 1 | 1 | 1 | | |
| Robert Wyatt | 1 | 1 | 1 | | |
| John Williams | 1 | 1 | 1 | 1 | Mrs F Fitzhugh's |
| James Williams | 1 | 1 | 1 | | |
| Abraham Walker | 1 | 1 | 1 | | |
| Armistead Wesley | 1 | 1 | | | |
| Webster Wilson | 1 | 1 | 1 | | |
| George Worthington | 1 | 1 | 1 | | |
| Wallace Wonder | 1 | 1 | 1 | | |
| George Williams | 1 | 1 | | | |
| Thomas Webb | 1 | 1 | 1 | | |
| Armistead Wesley | | 1 | 1 | 1 | J Crocker's |
| Armistead Weslty Jr | 1 | | | | |
| Albert Walker | | 1 | | | |
| Lewis Williams | | 1 | 1 | | |
| William Wilson | | 1 | 1 | | |
| Frank Walker | | 1 | 1 | 1 | O. R. Huntt's |
| John Williams | | 1 | 1 | 1 | R A Walker's |
| Daniel West | | 1 | 1 | | |
| Burr Watson | | 1 | 1 | | |
| Newton Walker | | 1 | 1 | | |
| Powell Wilson | | 1 | 1 | | |
| Samual Williams | | 1 | | | |
| Thornton Waters | | | 1 | | |
| Carter White | | | 1 | | |
| John Wheeler | | | 1 | 1 | Mason's Hill |
| Henry Wesley | | | 1 | | |
| Pettir (Peter) Watts | | | 1 | 1 | Falls Church |
| Benjamin Wayne (Waynes) | | | 1 | 1 | Martha Gunnell's |
| Alfred White | | | 1 | | |
| Robert Wooden | | | 1 | | |
| Fielder Wilson | | | 1 | | |
| Thomas Williams | | | 1 | 1 | Vienna |
| George Williams | | | 1 | | |
| Henry Williams | | | 1 | 1 | Bailey X Roads |
| John Wanzer | | | 1 | | |
| Burnett Williams | | | 1 | | |
| Solomon Wing | | | 1 | | |
| Andrew Ward | | | 1 | | |
| Oscar Washington | | | 1 | | |
| Charles Washington | | | 1 | | |
| Henry Williams Jr | | | 1 | | |
| William Webster | | | 1 | | |
| Lewis Warner | | | 1 | | |
| Joshua Washington | | | 1 | | |
| Thomas West | | | 1 | 1 | Vienna |
| Franklin Weaver | | | 1 | | |
| David Webster | | | 1 | | |
| James Weeks | | | 1 | | |
| Benjamin Williams | | | 1 | | |
| John Walker | | | 1 | | |
| Thompson Warner | | | 1 | 1 | Ambrose Cock's |
| Reuben Winshaw | | | 1 | | |
| Doctor Willis | | | 1 | | |
| Addison Waldron | | | 1 | 1 | Langley |
| James Whiting | | | 1 | | |
| George Williams | | | 1 | 1 | N Fitzhugh's |
| John Wigginton | | | 1 | | |
| Rezen (Rezin) Williams | | | 1 | 1 | L. V. Ballon's |
| Albert Waldron | | | 1 | | |
| John Williams | | | 1 | 1 | T. J. Carper's |
| Philip Wheeler | | | 1 | | |
| Powell Wilson | | | 1 | 1 | A. Stephenson's |
| John Walkins | | | 1 | | |
| James Whaler | | | 1 | | |
| William B Watson | | | | 1 | Follin's farm |
| Lewis Walker | | | | 1 | George Walter's |
| Wilson Webster | | | | 1 | Lewis Griffith's |
| David Wiley | | | | 1 | M. Shipman's |
| Isaac White | | | | 1 | Mrs Gales' |
| James Whales | | | | 1 | Mrs Trott's |
| Montella Willis | | | | 1 | Langley |
| William Williams | | | | 1 | M D Ball's land |
| James Williams | | | | 1 | T. J. Carper's |
| Thomas Whiting | | | | 1 | C House |
| John Wanza | | | | 1 | Fort Ward |
| Benjamin Waynes | | | | 1 | Martha Gunnells |
| Joshua Williams | | | | 1 | R H Reid's |
| Robert Williams | | | | 1 | W H Gooding's |
| Wesley Whiting | | | | 1 | |
| Benjamin Wade | | | | 1 | |
| Henry (Harry) Young | 1 | 1 | 1 | | |
| John Young | 1 | 1 | 1 | | |
| Stephen Young | | | 1 | | |
Southern District
| | | | | | |
| --- | --- | --- | --- | --- | --- |
| Name of Person | 1866 | 1867 | 1868 | 1869 | 1869 Location/Employment |
| Sandy Alexander | 1 | 1 | 1 | 1 | near W H Snowden's |
| John Aaron | | | 1 | | |
| Fenton Allen | 1 | 1 | 1 | 1 | near Wells' store |
| Charles Anderson | | | 1 | | |
| Alexander Ashley (Ashby) | | | 1 | 1 | with Henry Johnson |
| Lewis Anderson | | | 1 | | |
| Charles Ash | 1 | 1 | 1 | | |
| John Allen | 1 | 1 | 1 | 1 | at Mrs Virginia Scotts' |
| Kenna Ashton | | | 1 | | |
| Alexander Allen | | | | 1 | at James Green's farm |
| George Anderson | | | | 1 | near C. House |
| Jery Allen | | | | 1 | Mason's neck |
| William Anderson | | | | 1 | at J. L. Speakes' |
| Alick Anderson | | | | 1 | near Colchester |
| Armistead Ashton | | | | 1 | near Jno. Sweing's |
| John Anderson | | | | 1 | with Harrison Otis |
| Charles Allen | | | | 1 | with Richard Lacy |
| Aurclius Allen | | | | 1 | at Ed. Daniel's |
| William Allen | | | | 1 | at Jno Haislip's |
| Alexander Ashton | | | | 1 | near S. Pomeroy's |
| Benjamin Anderson | | | | 1 | Ed Daniel's land |
| Howard M Bell | | | 1 | 1 | in Mason's Neck |
| Charles Botts | | | 1 | | |
| Benjamin F Beale | | | 1 | | |
| Charles Baily (Bayley) | | | 1 | 1 | on Jerry Ragan's land |
| George Brown | | | 1 | | |
| Richard Bellfield | | | 1 | 1 | at S. H. Snowden's |
| Walter Berkley | | | 1 | 1 | at Gum Spring |
| B F Beale Jr | | | 1 | | |
| Baylor Beale | | | | 1 | at W H Thornton's |
| Lovelace Brown | 1 | | 1 | 1 | at Gum Spring |
| William Brown | 1 | 1 | 1 | | |
| William H Bell | 1 | 1 | 1 | | |
| Joseph Botts | 1 | 1 | 1 | | |
| Alfred Bell | 1 | 1 | 1 | 1 | near Paynters |
| Barney Brown | 1 | 1 | 1 | | |
| James Burke | 1 | 1 | 1 | 1 | at Mrs A.M. Fitzhugh's |
| Edmond Brooks | 1 | 1 | 1 | | |
| Stephen Bayley (Bailey) | 1 | 1 | 1 | | |
| John Beckwith | 1 | | | 1 | above Centreville |
| Alfred Beckwith | 1 | 1 | 1 | 1 | Near Clifton |
| Sandy Branson | 1 | 1 | 1 | 1 | at Wm Briscoe's |
| James Branson | 1 | | 1 | 1 | Near Mrs Otterbacks |
| David Blackburn | 1 | 1 | 1 | 1 | Near Mrs Otterbacks |
| Thomas Bushrod | 1 | 1 | 1 | 1 | near Pohick Church |
| George Bundy | 1 | 1 | 1 | | |
| Samuel Banks | 1 | 1 | 1 | | |
| Henry Berkley | 1 | 1 | 1 | | |
| Nelson Berry | 1 | 1 | 1 | 1 | |
| Henry Burnside | 1 | 1 | 1 | | |
| John Bell | | 1 | 1 | | |
| Mahlon Butler | | 1 | 1 | | |
| Richard Brent | | 1 | 1 | 1 | at Farr's X Roads |
| Charles Brooks | | | 1 | 1 | Near Mrs Robertdeaus |
| Charles Brooks Jr | | 1 | 1 | | |
| Garrett (Jerod)Buckner | | 1 | 1 | 1 | Gordondale Settlement |
| G F (J F) Beckley | | 1 | 1 | | |
| Baily Braxton (Brackston) | | 1 | 1 | 1 | Near Accotink Mills |
| James Burland | | | 1 | | |
| James F Bucton | | | 1 | | |
| James Brooks | | | 1 | 1 | at Mr Robinson's farm |
| Armstead Bates | | | 1 | 1 | Near C.H. (court house) |
| George Broomfield | | | 1 | 1 | on Kincheloe's land |
| John Burroughs | | | 1 | | |
| Charles H Barber | | | 1 | | |
| Charles Barbour | | | | 1 | on Mrs Grigsby's land |
| William Butts (Botts) | | | 1 | 1 | at C. F. Wilkins |
| Thomas H Bradley | | | 1 | | |
| Thomas Branch | | | 1 | | |
| Albert Bowles | | | 1 | 1 | at Barnes' Mill |
| Baily Beadle | | | 1 | | |
| James Baines | | | 1 | 1 | at Centreville |
| Frederick Brown | | | 1 | | |
| Samuel Brooks Jr | | | 1 | | |
| Joshua Buckner | | | 1 | | |
| Dennis Bowles | | | 1 | 1 | at Jno Marshall's |
| Charles Botts | | | 1 | 1 | Gordondale Settlement |
| Sandford Botts | | | 1 | 1 | at Barnes' Mill |
| Willoughby Bowles | | | 1 | 1 | at J. M. Fairfax's Shop |
| Daniel Bowles | | | 1 | 1 | |
| Freeland Bundy | | | 1 | | |
| Peter Burns | | | 1 | | |
| George W Banks | | | 1 | | |
| John Bryant | | | 1 | | |
| George Bateman | | | 1 | 1 | Near Dogue Creek |
| Charles Bell | | | 1 | 1 | at E. Mason's |
| Henry Bronson (Branson) | | | 1 | 1 | Near Mrs Otterbacks |
| Neil (Neill) Brown | | | 1 | 1 | near Accotink |
| Jackson Barnet | | | 1 | | |
| Addison Blackburn | | | 1 | 1 | at C. F. Johnston's |
| Sampson Baltimore | | | 1 | | |
| Stephen Baylor | | | | 1 | Near Wm Trammell's |
| Nathaniel Brown | | | | 1 | Gordondale Settlement |
| Henry Bradley | | | | 1 | at W H Thornton's |
| Mahlon Butler | | | | 1 | at Mrs Mary Somer's |
| William Brooks | | | | 1 | at West End |
| Dennis Butler | | | | 1 | at H C Newman's |
| Hayden Bass | | | | 1 | at Wm Hunter's |
| John Butler | | | | 1 | at Dr Howland's |
| Hillary Barnes | | | | 1 | at Henry Truax's |
| Armistead Beckley | | | | 1 | near Woodlawn |
| Harrison Berkley | | | | 1 | near Woodlawn |
| Oscar Baker | | | | 1 | Near Dogue Creek |
| Augustus Brown | | | | 1 | at Accotink |
| Henry Bonley | | | | 1 | at W H Thornton's |
| Richard Brodus | | | | 1 | at Hunting Creek |
| Isaac Burgess | | | | 1 | in Mason's Neck |
| Charles Bows | | | | 1 | at Penny Hill |
| Trim Banks | | | | 1 | at Penny Hill |
| Joseph M Bell | | | | 1 | in Mason's Neck |
| Addison Beverley | | | | 1 | above Centreville |
| Ezekiel Beverley | | | | 1 | above Centreville |
| Thomas Brace | | | | 1 | on Jerry Ragan's land |
| Selden Byers | | | | 1 | Gordondale Settlement |
| Moses Brooks | | | | 1 | at Mrs Johnston's |
| William Henry Barnes | | | | 1 | at W. D. Davis' |
| Samuel Busy | | | | 1 | with C. S. Stone |
| Thomas Beckton | | | | 1 | near Fairfax Station |
| Alfred Beckwith | | | | 1 | near Fairfax Station |
| John Blackstone | | | | 1 | at Geo. Mason's |
| Frank Chambers | 1 | 1 | | | |
| William Cole | | | 1 | | |
| William Carter | 1 | 1 | 1 | | |
| Peter Carter | 1 | 1 | 1 | | |
| Robert Crawford | 1 | 1 | 1 | | |
| John Cole | 1 | 1 | 1 | | |
| William Carter | 1 | 1 | | 1 | Washington's Old Mill |
| William Carter Sr | | | 1 | | |
| Alfred Champ | 1 | 1 | 1 | | |
| William H Cole | 1 | 1 | | | |
| George Cash | 1 | 1 | 1 | | |
| Henry Cooper | 1 | 1 | 1 | | |
| James H Champ | 1 | 1 | 1 | | |
| Frank Cheaks (Cheek) | | 1 | | | |
| Temple Cheek | | 1 | 1 | | |
| Daniel Crump | | 1 | 1 | | |
| Joseph Carter | | 1 | 1 | 1 | Adam Young's |
| Henry Clock | | 1 | 1 | | |
| Charles Coats | | 1 | 1 | | |
| C Crump | | 1 | | | |
| Hesikiah Conway | | | 1 | | |
| Ezekiel Conway | | | | 1 | W H Thornton's |
| Douglas Cooper | | | 1 | | |
| Gustaves Catts | | | 1 | | |
| Jefferson Champ | | | 1 | | |
| Adam Cook | | | 1 | 1 | |
| Cluver Chapman | | | 1 | | |
| John Cork | | | 1 | 1 | James Denty's |
| Lewis Carter | | | 1 | | |
| Robert Carter | | | 1 | 1 | Warrington Gillingham's |
| James Cooper | | | 1 | | |
| Baptist Carpenter | | | 1 | | |
| Isaac Cary | | | 1 | 1 | F F Tripletts |
| Silas Carter | | | 1 | 1 | Springfield |
| Andrew Carpenter | | | 1 | | |
| Henry Clay | | | 1 | 1 | S. H. Snowden's |
| Henry Clayburn (Claiborne) | | | 1 | 1 | C. F. Wilkin's |
| Eddie Carroll (Carll) | | | 1 | 1 | D Johnston's |
| Isaac Cole | | | 1 | 1 | J. McWilliams |
| Peter Calvert | | | 1 | | |
| Ralph Carroll | | | 1 | | |
| Daniel Carroll | | | 1 | | |
| Joseph Chase | | | 1 | 1 | on James Wood's land |
| Alexander Clarense | | | 1 | | |
| Moses Coats | | | 1 | | |
| James Craig | | | | 1 | Mt. Vernon |
| Herbert Carter | | | | 1 | Ritter's Brick yard |
| Sandy Clark | | | | 1 | Dr Champan's |
| James Curtis | | | | 1 | above Centreville |
| Grafton Cooper | | | | 1 | Near Tho. Pulman's |
| Robert Carll | | | | 1 | D Johnston's |
| Peter Casey | | | | 1 | M OBrien's |
| Lynch Casey | | | | 1 | A. Bruner's |
| Wilson Comfort | | | | 1 | S Johnson's |
| Henry Coleman | | | | 1 | Chas Johnston's |
| Thomas Clemens | | | | 1 | Near C House |
| John Cumsey | | | | 1 | above Centreville |
| Wyatt Carter | | | | 1 | Wesley Brigham's |
| James Derrick | 1 | | | | |
| Nace Dade | 1 | 1 | | 1 | Gooding's land |
| Nathaniel Dade | | | 1 | | |
| Moses Davis | | | 1 | 1 | W. D. Otis' |
| Jesse Day | | 1 | 1 | 1 | Levi Stiles' |
| Wesley Davis | | 1 | 1 | 1 | W. D. Otis' |
| John W Douglass | | 1 | | | |
| Frank Day | | | 1 | 1 | Barnes' Mill |
| Henry Davis | | | 1 | 1 | Clifton |
| James Dean | | | 1 | | |
| Charles F Dean | | | 1 | | |
| Thomas C Dodd | | | 1 | | |
| Charles Doleman | | | 1 | 1 | W H Thornton's |
| Charles Dowman | | | | 1 | Near Wells' Store |
| Humphley Davis | | | 1 | 1 | Washington's Old Mill |
| Henry W Davis | | | 1 | 1 | Washington's Old Mill |
| Nathaniel Dodson | | | 1 | | |
| Nace Dodson | | | | 1 | J. B. Dangerfield's |
| Henry H Davis | | | 1 | | |
| Lewis Dudley | | | 1 | 1 | Hunting Creek |
| James Dent | | | 1 | 1 | C. Gillingham's |
| George Dillworth | | | 1 | | |
| Samuel Davis | | | 1 | 1 | Thos Taylor's |
| John Dudley | | | 1 | 1 | Jno Stingess' |
| Gordon Diggs | | | 1 | | |
| Lewis Dudley Jr | | | | 1 | Hunting Creek |
| Jefferson Davis | | | | 1 | Mrs A. M. Johnston's |
| John Davis | | | | 1 | Walter Berkley's |
| George Davis | | | | 1 | Near Accotink |
| John H Davis | | | | 1 | Near Accotink |
| David Davis | | | | 1 | Near Accotink |
| Lewis Dudley | | | | 1 | Penny Hill |
| Henry Dickson | | | | 1 | B Skinner's |
| Samuel Dodson | | | | 1 | Jas Chase's |
| Samuel Davis | | | | 1 | Washington's Old Mill |
| William Day | | | | 1 | Mrs W Mills' land |
| Albert Davis | | | | 1 | H. Claggett's |
| Crange Early | | | 1 | | |
| William Early | | | 1 | | |
| Dory Enderson | 1 | 1 | 1 | | |
| Daniel Ease | 1 | 1 | 1 | | |
| Washington Ewell | | 1 | 1 | | |
| Robert Edwards | | | 1 | | |
| James H Edelin | | | 1 | | |
| Winston Early | | | 1 | | |
| Lewis Ennison | | | 1 | | |
| Theodore Ennison | | | | 1 | J. L. Cox's land |
| Henry Elgin | | | | 1 | Mrs. Sarah Otterback's |
| Robert Edmonds | | | | 1 | Oliver Pulman's |
| James Edmonds | | | | 1 | Near Jno Strolan's |
| Isaac Edwards | | | | 1 | D G. Watkin's |
| Jerry Fairfax | 1 | 1 | 1 | | |
| Jesse Fisher | 1 | 1 | 1 | | |
| Gus Fletcher | 1 | | 1 | | |
| William Ford | 1 | 1 | 1 | 1 | Gum Spring |
| John Franklin | 1 | 1 | 1 | 1 | Penny Hill |
| Dennis Freman (Freeman) | 1 | 1 | 1 | 1 | Ed Daniel's |
| W W Ford | | | 1 | | |
| William Ford | | | | 1 | above Centreville |
| Peter Ford | | | 1 | 1 | S. H. Snowden's |
| William Ferguson | | | 1 | 1 | |
| Richard Frances (Francis) | | | 1 | 1 | Gum Spring |
| West Ford | | | 1 | | |
| Moses Folks | | | 1 | | |
| Daniel Ferguson | | | 1 | 1 | J. O. Kirby's |
| Joseph Ford | | | 1 | | |
| Thomas Fields | | | 1 | 1 | Ravensworth |
| Robert Ford | | | 1 | | |
| George Ford | | | 1 | 1 | Watson A Rector's |
| William Fox | | | | 1 | Penny Hill |
| Thomas Fletcher | | | | 1 | Clifton |
| William Fletcher | | | | 1 | Geo Lee's |
| R B Fitzhugh | | | | 1 | Clifton |
| Alfred Fields | | | | 1 | H. Otis' |
| Wesley Ford | | | | 1 | Mt Vernon |
| French Fauntleroy | | | | 1 | C. Gillingham's |
| Robert Fitzhugh | | | | 1 | Accotink |
| Dennis Ferguson | | | | 1 | Robert Wiley's |
| Peter Fox | | | | 1 | Hunting Cr. Bridge |
| Alfred Gibson | 1 | | | | |
| Nelson Gibson | | 1 | 1 | | |
| Henry Goings | 1 | 1 | 1 | | |
| Alfred Grey | 1 | 1 | 1 | | |
| Horace Gibson | 1 | 1 | 1 | | |
| Thornton Grey | 1 | 1 | 1 | | |
| Charles Gaskins | 1 | 1 | 1 | 1 | Near Fairfax Station |
| Daniel Griffin | 1 | 1 | 1 | 1 | On Bridge Road |
| John Griffin | 1 | 1 | 1 | | |
| John Grey (Gray) | 1 | 1 | 1 | | |
| James Gray | | | 1 | | |
| Enoch Grayson | 1 | 1 | | 1 | Dennis Johnston's |
| Frederick Grace | | 1 | 1 | | |
| William Grey | | 1 | | | |
| John Grey | | 1 | | 1 | Penny Hill |
| John Gray Jr | | | 1 | | |
| Strother Gibson | | 1 | 1 | | |
| Thornton Grey | | 1 | | | |
| Jarett Garrett | | 1 | | | |
| Jerod (Jerry) Gantt | | | 1 | 1 | Accotink Mills |
| Tasco (Tascoe) Gaskins | | 1 | 1 | | |
| Edward Green | | 1 | | | |
| Thornton Gray Jr | | | 1 | | |
| Henry Gaskins | | | 1 | | |
| Richard Gillam | | | 1 | | |
| Edward Gibson | | | 1 | | |
| Albert Green | | | 1 | 1 | Ed. Daniel's land |
| David Gaskins | | | 1 | 1 | Centreville |
| Clifton Garland | | | 1 | | |
| Albert Gordon | | | 1 | | |
| James Gantt | | | 1 | 1 | C. F Wilkin's land |
| Eugene Green | | | 1 | | |
| John Gordon | | | 1 | 1 | Ritter's Brickyard |
| Stanfield Gaskins | | | 1 | | |
| Glascoe Gaskins | | | 1 | 1 | Near Fairfax Station |
| John Gheen | | | 1 | | |
| Thomas Goings | | | 1 | | |
| Berkly (Berkley) Graves (Groves) | | | 1 | 1 | on Isaacs Halls' land |
| John Gale | | | 1 | | |
| Willoughby Grenage | | | | 1 | Jas McWilliams' |
| Edmund Gibson | | | | 1 | |
| Shirley Grayson | | | | 1 | |
| Tasker Gaskins | | | | 1 | Near Fairfax Station |
| Archibald Gillian | | | | 1 | Ed. Daniel's land |
| William Gibbons | | | | 1 | J. L. Detwiler's |
| Robert Gaskins | | | | 1 | Centreville |
| Thomas Gaskins | | | | 1 | Barnes' Mill |
| Hiram Ganett | | | | 1 | Thos Burke's |
| Tapley Gaskins | | | | 1 | Fairfax Station |
| John Green | | | | 1 | Woodlawn |
| Thomas Ganett | | | | 1 | Accotink Mills |
| Isaac Golden | | | | 1 | N. Burke's |
| Silas Harris | | 1 | 1 | 1 | Near Clifton |
| James Henshaw | 1 | 1 | 1 | | |
| John Harris | 1 | 1 | 1 | 1 | Near James Green's |
| Richard Harris | 1 | 1 | 1 | 1 | above Centreville |
| Jesse Harris | 1 | 1 | 1 | 1 | above Centreville |
| Jesse Harris Jr | | | 1 | | |
| Sandy Harris | 1 | 1 | 1 | 1 | James Green's |
| Silas Harris | | | 1 | 1 | Dr M. V. B. Bogan's |
| Edward Harris | 1 | 1 | 1 | 1 | Geo. Mason's |
| Obid (Obed) Harris | 1 | 1 | 1 | 1 | above Centreville |
| Moses Harris | 1 | 1 | 1 | 1 | above Centreville |
| Obid Harris Jr | 1 | 1 | 1 | | |
| Nimrod Harris | 1 | 1 | 1 | 1 | on James Murtaugh's |
| Elijah Harris | 1 | 1 | 1 | 1 | above Centreville |
| Charles Harris | 1 | 1 | 1 | | |
| George Harris | 1 | 1 | 1 | 1 | above Centreville |
| Anthony Harris | 1 | 1 | 1 | 1 | above Centreville |
| Edward Harris | 1 | | | | |
| Edward Harris Jr | | 1 | 1 | | |
| William Harris | 1 | 1 | 1 | 1 | above Centreville |
| Silas Harris | 1 | 1 | | | |
| William Harris | 1 | 1 | 1 | 1 | Clifton |
| William Harris Jr | | 1 | 1 | | |
| Jackson Hughes (Hughs) | 1 | 1 | 1 | | |
| Jackson Holland | 1 | 1 | 1 | | |
| William Holland | 1 | 1 | 1 | | |
| William Howland | | | | 1 | Near Accotink |
| George Holland | 1 | 1 | 1 | 1 | Lewis Gillingham |
| William Hunter | 1 | 1 | | | |
| William Hamilton | | 1 | 1 | | |
| John Height (Hight) | | 1 | 1 | | |
| William Horan | | 1 | | | |
| Jackson Hughes | | 1 | | 1 | Gordondale Settlement |
| Jackson Hughs Jr | | | 1 | | |
| John Holland | | 1 | 1 | 1 | Mrs Broders' |
| William Hamilton | | 1 | | | |
| William Hamilton Jr | | | 1 | | |
| Joseph Harris | | | 1 | 1 | Near James Green's |
| Henry Harris Sr | | | 1 | | |
| Henry Harris | | | | 1 | above Centreville |
| Henry Harris | | | | 1 | Geo Lee's farm |
| Joshua Harris Jr | | | 1 | | |
| William Horan | | | 1 | | |
| William Henderson | | | 1 | 1 | Jonathan Roberts' |
| Isaac Holmes | | | 1 | | |
| Charles Humphreys | | | 1 | 1 | J. Ballinger's |
| Jackson Hunter | | | 1 | | |
| Benjamin Henderson | | | 1 | | |
| Henry N Harris | | | 1 | | |
| Henry Hunter | | | 1 | | |
| Frank Haelstork | | | 1 | | |
| Henry Hill | | | 1 | 1 | Jno Seaton's land |
| Harday Harris | | | 1 | | |
| Joseph Hill | | | 1 | 1 | C. Gillingham's |
| George Holland | | | 1 | 1 | P H Troth's |
| Edward Holland | | | 1 | | |
| Joseph Harris | | | 1 | | |
| John Hoston | | | 1 | | |
| Major Hunter | | | 1 | | |
| Paul Hace | | | 1 | | |
| John Halbert | | | 1 | | |
| Jackson Hampton | | | 1 | | |
| John Harris | | | 1 | 1 | above Centreville |
| Vincent Hall | | | 1 | | |
| Edward Hartman | | | 1 | | |
| Edward Heath | | | 1 | 1 | E. Daniel's land |
| Henry Harris | | | 1 | | |
| Charles Hunter | | | 1 | 1 | Near C. House |
| Lewis Harris | | | | 1 | Wesley Brighams |
| Peter Hutchinson | | | | 1 | Lucas' Brickyard |
| John Harper | | | | 1 | Gordondale Settlement |
| William Hicks | | | | 1 | |
| Taliaferro Holmes | | | | 1 | Penny Hill |
| Pendleton Harris | | | | 1 | above Centreville |
| Alexander Harris | | | | 1 | above Centreville |
| Samuel Henderson | | | | 1 | above Centreville |
| John Hill | | | | 1 | Penny Hill |
| Robert Holland | | | | 1 | Penny Hill |
| Charles Hemmsley | | | | 1 | Mason's Neck |
| Thomas Harris | | | | 1 | Jno Marshall's |
| John Hampton | | | | 1 | Dr M. V. B. Bogan's |
| Thompson Hicks | | | | 1 | Near J Haislip's |
| Paul Hall | | | | 1 | Mrs. V. Scott's land |
| Moses Hartshorn | | | | 1 | J R Collard's |
| John Harris | | | | 1 | near Fairfax Station |
| John Hawkins | | | | 1 | J. Ballinger's |
| John Holland | | | | 1 | Accotink |
| David Humphrey | | | | 1 | Levi Stiles' |
| John Jacobs | | 1 | | | |
| Jerre (Jerry) Jackson | | 1 | 1 | 1 | |
| Austin Jasper | | 1 | 1 | 1 | Near Thompson Javins |
| Washington Jefferson | | 1 | 1 | 1 | Near C. A. Arundle's |
| Henry Jasper | | 1 | | 1 | R. W. Smith's |
| William Jackson | | 1 | 1 | 1 | Near Burke's Sta. |
| William Jones | | 1 | 1 | 1 | Dr Howland's |
| Thomas Jones | | 1 | 1 | | |
| Tecumseh Jackson | | 1 | 1 | 1 | above Centreville |
| Lewis Jackson | | 1 | 1 | 1 | Isaac Richards' |
| Andrew Jackson | | 1 | 1 | 1 | Accotink |
| Andrew Jackson (No 2) | | | 1 | | |
| Andrew Jackson (No 3) | | | 1 | | |
| Andrew Jackson (No 4) | | | 1 | | |
| Jessee Jones | | 1 | 1 | | |
| Frederick Jackson | | 1 | | 1 | Gum Spring |
| Fred R Jackson | | | 1 | | |
| Fred Jackson | | | | 1 | Near C House |
| Moses Johnson (Johnston) | 1 | 1 | 1 | 1 | Dr Begelow's |
| Esan (Esaw) Jackson | 1 | 1 | 1 | | |
| Jesse Jordon | 1 | 1 | 1 | 1 | Mrs Sarah Otterback's |
| Andrew Jackson | 1 | 1 | | | |
| Benjamin Johnson | 1 | 1 | | | |
| John Jacobs | 1 | 1 | 1 | 1 | Near Fairfax Sta. |
| Jesse Jordon Sr | 1 | 1 | | | |
| Jesse Jordon Jr | | 1 | 1 | | |
| Charles Jordon | 1 | 1 | 1 | 1 | Near Washington's Old Mill |
| Alonzo Jordon | 1 | 1 | 1 | 1 | Gum Spring |
| Thomas Jackson | 1 | 1 | 1 | 1 | near J. S. Collard's |
| Tobias (Toby) Jefferson | 1 | 1 | 1 | 1 | W H Gooding's |
| Andrew Jackson | 1 | 1 | | | |
| Richard Johns | | 1 | 1 | | |
| Richard Jones | | | | 1 | Mrs C. E. Lee's |
| Armstead Johnson | | 1 | 1 | 1 | Woodlawn |
| William Jordon | | | 1 | | |
| William Jasper | | | 1 | 1 | near J. S. Collard's |
| William Jackson | | | 1 | | |
| Robert Johnson | | | 1 | | |
| Richard Jasper | | | 1 | | |
| Griffin Johnson | | | 1 | | |
| Henry Johnson No 2 | | | 1 | | |
| Charles Johnson (Johnston) | | | 1 | 1 | E. Daniel's land |
| Thornton Jones | | | 1 | 1 | Dr Howland's |
| Thomas Jefferson | | | 1 | 1 | Near Adam Young's |
| William Johnson | | | 1 | | |
| George Johnson (Johnston) | | | 1 | 1 | E. Grayson's |
| Gabriel Johnson (Johnston) | | | 1 | 1 | M. McKuen's land |
| John Johnson (Johnston) | | | 1 | 1 | Mason's Neck |
| Lewis James | | | 1 | | |
| Ephraim Jasper | | | 1 | | |
| George Jones | | | 1 | 1 | above Centreville |
| Benjamin Johnson (Johnston) | | | 1 | 1 | E. R. Ford's land |
| Loranzo Johnson | | | 1 | | |
| Edward Johnson | | | 1 | | |
| Alfred Jackson | | | 1 | 1 | Mt Hapburn |
| Alfred Jackson Jr | | | 1 | | |
| Alfred Jackson | | | | 1 | Mrs Ann Johnston's |
| Alfred Jackson | | | | 1 | Jno. Haislip's |
| William Jordon | | | 1 | | |
| Wiltshire Jennings | | | | 1 | W. Henderson's |
| Jesse Jones | | | | 1 | Gordondale Settlement |
| Samuel Jones | | | | 1 | Dr Begelow's |
| Emanuel Johnston | | | | 1 | E. R. Ford's land |
| Richard Johnston | | | | 1 | Near Caple's mill |
| Thomas Jackson | | | | 1 | G. Reinecker |
| Thomas Jones | | | | 1 | Dr J. R. Pugh's |
| John Jackson | | | | 1 | Mrs A. Mitchell's |
| Henry Jones | | | | 1 | Mrs Broders' |
| Thomas Johnston | | | | 1 | M OBrien's |
| Frank Johnson | | | | 1 | Mrs Mary Somers' |
| Nathan Johnson | | | | 1 | Mt Vernon |
| Silas Jackson | | | | 1 | N. Burke's |
| Alfred Jasper | | | | 1 | Accotink |
| Amos Johnston | | | | 1 | Accotink |
| Archy Johnston | | | | 1 | Mrs A. Fitzhugh's |
| George Jaskson | | | | 1 | J. M. Fairfax's |
| Solomon Jordon | | | | 1 | Near Fairfax Sta. |
| Dennis Jones | | | | 1 | Ravensworth |
| Thomas Jackson | | | | 1 | A. Arnold's |
| John King | | | 1 | 1 | Washington's old Mill |
| Robb (Robert) King | | | 1 | 1 | at Jno. Young's |
| Elias Kigh (Keigh) (Keye) | 1 | 1 | 1 | 1 | Near Keen's old Mill |
| Judge Kelsey | | | | 1 | Gordondale Settlement |
| Henry Kirby | | | | 1 | C. Lukens' |
| Jerry Kane | | | | 1 | Wm L Lee's |
| Alexander Lee | 1 | 1 | 1 | 1 | Dr M V B Bogan's |
| S A (S K) Lee | 1 | 1 | 1 | 1 | Mason's Neck |
| George Lamb | 1 | | | | |
| Isaac Lee | 1 | 1 | 1 | 1 | Ed. Daniels' |
| Reuben Lee | 1 | 1 | 1 | 1 | Mrs Leah Wrenn's |
| Charles Lear | 1 | 1 | 1 | | |
| David Lyons | 1 | 1 | 1 | | |
| George Lear | | 1 | 1 | | |
| Edward Lee | | 1 | 1 | | |
| Inman Lomax | | | 1 | | |
| Lucas Warner | | | 1 | | |
| Tapley Lee | | | 1 | | |
| Alfred Lucket | | | 1 | | |
| Allen Lott | | | 1 | | |
| Andrew Lee | | | 1 | 1 | Wm Briscoe's |
| Isaac Lee | | | 1 | | |
| George Lee | | | 1 | | |
| Andrew Lee No 2 | | | 1 | | |
| Charles Leonard | | | 1 | 1 | W. Henderson's |
| Benjamin Luby | | | 1 | | |
| Powell Luby | | | 1 | | |
| Henry Lyles | | | | 1 | Jos Chauncey's |
| John B Lewis | | | | 1 | Mrs Otterback's land |
| Tony Lynch | | | | 1 | Philip Howard's |
| Henry Lanham | | | | 1 | J. M. Springman's |
| William Langston | | | | 1 | J H Rice's |
| William Lucas | | | | 1 | J H Sweeny's |
| Henry Lee | | | | 1 | Near Ed Wilson's |
| Washington Lloyd | | | | 1 | Miss Polly Scarce's |
| Edward Massey (Massie) | 1 | 1 | 1 | | |
| Edward Massie Sr | | | 1 | | |
| Jackson Morten (Morton)(Molten) | 1 | 1 | 1 | 1 | Burke's Station |
| Thomas Marshall | 1 | | | 1 | W H Gooding's |
| Frank Moore | 1 | 1 | 1 | 1 | Near DeNike's |
| George Moore | 1 | 1 | 1 | 1 | W Gillingham's |
| Douglass Mundy (Monday) | 1 | 1 | 1 | | |
| Nelson Mason | | 1 | 1 | 1 | J. Patton's |
| Edward Massey Jr | | 1 | | | |
| Charles Murry | | 1 | | | |
| Simon Mack | | 1 | 1 | 1 | G. P. Wright's |
| Reuben Morton | | 1 | 1 | | |
| Martin Mellontree | | 1 | 1 | 1 | B. Ward's |
| James Maddison | | | 1 | | |
| Peter Modley (Medley) | | | 1 | 1 | Ed Daniel's |
| William McGee | | | 1 | | |
| Benjamin Mason | | | 1 | 1 | Jerry Ragan's |
| Lewis Malvin | | | 1 | | |
| Daniel Mason | | | 1 | | |
| Jesse Montgomery | | | 1 | 1 | W. H. Snowden's |
| William Mundle | | | 1 | | |
| Mack Montgomery | | | 1 | | |
| Frank McGreen | | | 1 | | |
| Warner May (Mays) | | | 1 | 1 | Mt Vernon |
| Robert Mosby | | | | 1 | J. J. Newcomb's |
| Warner Melvin | | | | 1 | Richard Vowles' |
| James Monroe | | | | 1 | J. D. Smith's |
| Charles Monroe | | | | 1 | Thompson Jarvin's |
| Michael Minor | | | | 1 | G. Reinecker's |
| Thomas Miller | | | | 1 | Jno DeBell's |
| William Monroe | | | | 1 | J. P. Barlow's |
| Samuel Marbury | | | | 1 | N Burke's |
| John Mason | | | | 1 | Mrs Hull's |
| Dennis Mason | | | | 1 | Wm Hemmersley's |
| Charles McKinney | | | | 1 | Jno Young's |
| Henry Mays | | | | 1 | Mt Vernon |
| Thomas Mitchell | | | | 1 | Mt Vernon |
| Valentine Montgomery | | | | 1 | Charles Way's |
| John Mann | | | | 1 | Mrs. Allison's |
| Joshua Murray | | | | 1 | Near C House |
| Joseph Moore | | | | 1 | Near C House |
| William McDowell | | | | 1 | Penny Hill |
| John Morris | | | | 1 | H McWilliams' |
| William Morton | | | | 1 | Gordondale Settlement |
| Jesse Morton | | | | 1 | T. M. Grigsby's |
| William Majors | | | | 1 | Penny Hill |
| Edward Nelson | 1 | 1 | 1 | | |
| William Norris | 1 | 1 | | 1 | Anandale |
| Peter Nickens | 1 | 1 | 1 | 1 | Mrs Otterback's |
| Alfred Napper | 1 | 1 | 1 | 1 | D Johnston's |
| Henry Neil | | 1 | 1 | | |
| Frank Napper | | 1 | 1 | 1 | Hayfield |
| William Napper | | 1 | 1 | | |
| James Napper | | 1 | 1 | | |
| Samuel Napper | | 1 | 1 | 1 | Charles Potter's |
| Robert Nelson | | | 1 | 1 | Near Mrs Broder's |
| Benjamin Nailer (Naylor) | | | 1 | 1 | above Centreville |
| Mason Newton | | | 1 | | |
| James Nickens | | | 1 | | |
| Cornelius Nailer | | | 1 | | |
| Horace Nash | | | 1 | | |
| Joseph Nelson | | | | 1 | S R Johnston's |
| Jacob Newman | | | | 1 | near Accotink |
| Richard Owens | | 1 | 1 | 1 | Philip Lee's |
| Fred Offit | | | 1 | | |
| Moses Parker | 1 | 1 | 1 | | |
| Loney (Sony)(Leone) Parker | 1 | 1 | 1 | 1 | W Henderson's |
| Jacob Parker | 1 | 1 | 1 | 1 | C. F. Taylor's |
| William Pierson (Pearson) | | 1 | 1 | | |
| Vincent Parker | 1 | 1 | 1 | | |
| Jack Pierson (Pearson) | 1 | 1 | 1 | | |
| Charles Pierson (Pearson) | 1 | 1 | 1 | 1 | Near Burke's Station |
| Joshua Pierson (Pearson) | 1 | 1 | 1 | 1 | Near Burke's Station |
| Jesse Privy | 1 | 1 | 1 | | |
| William Payne | 1 | 1 | 1 | | |
| Peter Payne | 1 | 1 | 1 | 1 | Geo Wright's |
| Nathan Pinn | 1 | 1 | 1 | | |
| James Pierson (Pearson) | | 1 | 1 | | |
| James Pierson (Pearson) Jr | | 1 | 1 | | |
| Henry Payne | | 1 | 1 | | |
| Thomas Pollard | | 1 | 1 | | |
| Charles Parker | | 1 | 1 | 1 | H G Otis' |
| Henry Pratt | | 1 | 1 | | |
| John Pierson (Pearson) | | 1 | 1 | 1 | Burke's Station |
| John Parker | | 1 | 1 | | |
| Albert Payne | | | 1 | 1 | H. L. Croson's |
| George Pendleton | | | 1 | 1 | Near Elisha Denty's |
| Randall Payne | | | 1 | 1 | S. H. Snowden's |
| Henry Parker | | | 1 | | |
| Edward Parks | | | 1 | | |
| Warner Peyton (Patton) | | | 1 | 1 | R K Lee' |
| John Proctor | | | 1 | 1 | Near Mill P. Scarce's |
| Alexander Page | | | 1 | 1 | T. M. Grigsby's |
| Moses Penhick | | | | 1 | Charles Johnston's |
| Anderson Pryor | | | | 1 | above Centreville |
| Samuel Payne | | | | 1 | C. F. Wilkin's |
| Henry Proctor | | | | 1 | Washington's old Mill |
| George A Parker | | | | 1 | |
| Henry Pairr | | | | 1 | Mason's Neck |
| Spencer Pentze | | | | 1 | Wesley Grigham's |
| Henry Porter | | | | 1 | J. S. Marder's |
| Isaac Peyton | | | | 1 | Near C House |
| Jacob Parker | | | | 1 | C. F. Taylor's |
| William Page | | | | 1 | G Runeiker's |
| Alls (Awles) Quander | | 1 | 1 | | |
| Richard Quander | 1 | 1 | 1 | | |
| James Quander | | 1 | 1 | | |
| James E Quander | | | | 1 | H. Truax's |
| Joshua Quander | | 1 | 1 | | |
| Felix Quander | | 1 | 1 | 1 | Washington's old Mill |
| John Quill | | | | 1 | Jas S. Collard's |
| Henry Quander | | | | 1 | Mrs A M Johnson's |
| John P Quander | | | | 1 | Store |
| Oscar Quander | | | | 1 | near Woodlawn |
| Isaac Richards | 1 | 1 | 1 | 1 | W H Gooding's |
| Alfred Robinson | 1 | 1 | 1 | 1 | Obed Harris' |
| John Robinson | 1 | 1 | 1 | | |
| Trobis (Tolus) Riley | 1 | 1 | 1 | | |
| Asbury Robinson | 1 | 1 | 1 | | |
| Willis Randolph | 1 | 1 | 1 | 1 | A & Accotink Road |
| Levi Richardson | 1 | 1 | | | |
| Geo H Richardson | | 1 | 1 | | |
| Washington Rich | | | 1 | | |
| Wilson Robinson | | | 1 | | |
| John Round | | | 1 | | |
| Jack Richardson | | | 1 | | |
| Henry Richardson | | | 1 | | |
| W H Russell | | | 1 | | |
| William Henry Russell | | | | 1 | W. L. Lee's |
| John Ransler | | 1 | | | |
| John Ransill (Ransell) | | | 1 | 1 | W H Gooding's |
| Levi Richardson | | | 1 | | |
| Peyton Randall | | | 1 | 1 | Mrs A. M. Johnston's |
| Benjamin Rogers | | | 1 | | |
| Tasco Robertson | | | | 1 | above Centreville |
| Berry Robinson | | | | 1 | Jas Green's |
| William Robertson | | | | 1 | Penny Hill |
| Washington Robertson | | | | 1 | Penny Hill |
| Daniel Roy | | | | 1 | A & Accotink Road |
| William Robertson | | | | 1 | Lucas' Brickyard |
| Boston Reddy | | | | 1 | M. McCuen's land |
| Nathan Ray | | | | 1 | Mason's Neck |
| George Reels | | | | 1 | Mason's Neck |
| John Round | | | | 1 | J Gilverton's |
| Frederick Russell | | | | 1 | Lee's Toll gate |
| Alex Robertson | | | | 1 | S R Johnston's |
| John Ransom | | | | 1 | Mrs A. M. Johnston's |
| Jackson Richardson | | | | 1 | Adam Young's |
| Edward Richardson | | | | 1 | Mrs Otterback |
| Reuben Redd | | | | 1 | Mason's Neck |
| Ezekiel Redley | | | | 1 | E Daniel's |
| James Simms | 1 | 1 | 1 | | |
| Henry Simms | 1 | 1 | 1 | | |
| Thomas Simms | 1 | 1 | 1 | | |
| Oscar Smith | 1 | 1 | 1 | | |
| Samuel Strother | 1 | 1 | 1 | | |
| John Scott | 1 | 1 | 1 | | |
| James Seals | 1 | 1 | | | |
| Daniel Simms | 1 | 1 | 1 | 1 | D. G. Walkins |
| John Stewart | 1 | 1 | 1 | | |
| Lewis Smith | 1 | 1 | 1 | | |
| Albert Summers (Somers) | 1 | 1 | 1 | | |
| Simon Studding | 1 | 1 | 1 | | |
| William Simms | 1 | 1 | | | |
| Albert Stewart (Stuart) | 1 | 1 | 1 | 1 | A & Accotink Road |
| Thornton Shelton | | 1 | 1 | 1 | Woodlawn |
| Lewis Smith | | 1 | 1 | | |
| James Scott | | 1 | 1 | 1 | Jno Haislip's |
| Wilson Scott | | 1 | 1 | 1 | Ship Wright's |
| Lewis Sweating (Sweeting) | | 1 | 1 | | |
| James Scott | | | 1 | | |
| Thomas Stokes | | | 1 | | |
| William Scrugs (Scruggs) | | | 1 | 1 | Centreville |
| James S Starks | | | 1 | | |
| Frank Smith | | | 1 | | |
| Andrew Stallion | | | 1 | | |
| William Smock (Smocks) | | | 1 | 1 | Wm Hammersley's |
| Richard Smith | | | 1 | | |
| Traverse Stokes | | | 1 | | |
| Humphrey Summers | | | 1 | | |
| Summerfield Sincor | | | 1 | | |
| Daniel Smith | | | 1 | | |
| James H Smith | | | 1 | | |
| Spencer Stokes | | | 1 | | |
| George Stuart | | | 1 | 1 | D Howland's |
| Richard Smith Sr | | | 1 | | |
| Sutton (Seddon)Shepherd | | | 1 | 1 | Flynn's land |
| Jony Stoke | | | 1 | | |
| Armstead Smith | | | 1 | 1 | C. F. Johnson's |
| William Smith | | | 1 | 1 | above Centreville |
| Porter Smith | | | 1 | | |
| John Starks | | | 1 | | |
| Henry Smith | | | 1 | | |
| Lewis Smith | | | 1 | 1 | Kincheloe's land |
| Eli Simpson | | | 1 | 1 | B Ward's |
| Wiley Smith | | | | 1 | Mrs Brodus' |
| Frank Stuart | | | | 1 | D. Johnston's |
| Henry Stuart | | | | 1 | Adam Martin's |
| Addison Sorrell | | | | 1 | Telegraph road |
| Dandridge Smith | | | | 1 | Woodlawn |
| John Sawyer | | | | 1 | J T Cox's land |
| Robert Scott | | | | 1 | E. O. Bett's |
| Jesse Smith | | | | 1 | D P Smith's |
| Alfred Smith | | | | 1 | Jno Roger's |
| George A Smith | | | | 1 | Mrs A M Johnson's |
| Travis Sorrell | | | | 1 | Near C House |
| William T Short | | | | 1 | Accotink |
| Edmond Taylor | 1 | 1 | 1 | | |
| Charles Tebbs | | 1 | | | |
| Frank Turner | 1 | 1 | 1 | | |
| B M Turner | | 1 | | | |
| William Thompson | | 1 | 1 | | |
| Neil (Neale) Triplett | 1 | 1 | 1 | 1 | Samuel Pulman's |
| Moses Taylor | 1 | 1 | 1 | | |
| William Thomas | | 1 | 1 | | |
| William Thompson | 1 | 1 | | 1 | Anandale |
| William Thompson Jr | | | 1 | | |
| Solomon Tibbs (Tebbs) | 1 | | 1 | 1 | Near C House |
| John Tolson | | 1 | 1 | 1 | Accotink Mill |
| Hudson Thomas | | 1 | 1 | | |
| James Thorn (Thom) | | 1 | 1 | | |
| Moses Taylor | | 1 | | 1 | T. J. Lowe's |
| Moses Taylor Jr | | | 1 | | |
| Elijah Timbers | | | 1 | | |
| Henson Thomas | | | 1 | 1 | Accotink Mill |
| Robert Thompson | | | 1 | | |
| Alexander Thompson | | | 1 | | |
| Randall Turner | | | 1 | 1 | D Johnston's |
| Thorna Tebbs | | | 1 | | |
| Harrison Thornton | | | 1 | | |
| Bassil Turner | | | 1 | | |
| Charles Tebbs | | | 1 | | |
| John Tenorer | | | 1 | | |
| Samuel Taylor | | | 1 | | |
| Thomas H Taylor | | | 1 | | |
| Robert Toliver | | | 1 | | |
| Robert Tucker | | | 1 | | |
| George Thomas | | | 1 | 1 | Quander's Store |
| James Taylor | | | 1 | | |
| Richard Turner | | | 1 | 1 | Near C. House |
| Richard Turner Jr | | | 1 | | |
| Thomas Tebbs Jr | | | 1 | | |
| Thomas Tebbs | | | | 1 | Near C. House |
| Richard Tebbs | | | 1 | | |
| Harrison Thornton | | | | 1 | P. Luken's |
| Frederick Tebbs | | | | 1 | P. Luken's |
| Edward Taylor | | | | 1 | Samuel Pulman's |
| Cornelius Triplett | | | | 1 | D Johnston's |
| Jesse Triplett | | | | 1 | D Johnston's |
| Lewis Turner | | | | 1 | Dr Bigelow's |
| Nathaniel Turner | | | | 1 | Penny Hill |
| Martin Thompson | | | | 1 | Penny Hill |
| John Taylor | | | | 1 | Penny Hill |
| Barney Taylor | | | | 1 | Geo Mason's |
| William Tucker | | | | 1 | C House |
| Jeff Turner | | | | 1 | near C. House |
| Nelson Temple | | | | 1 | Jno Haislip's |
| Richard Thompson | | | | 1 | Flynn's land |
| William Taylor | | | | 1 | H McWilliam's |
| Henry Vaugn | | | 1 | | |
| Thomas Vaugn | | | | 1 | Mrs Broders' |
| Thomas Wright | 1 | 1 | | | |
| James Washington | 1 | 1 | 1 | | |
| John Withers | 1 | 1 | 1 | | |
| Samuel Wilford (Willford) | 1 | 1 | 1 | | |
| Strother Webb | 1 | 1 | 1 | | |
| Alfred Williams | 1 | 1 | 1 | 1 | Dr Bigelow's |
| Reuben Wallace | 1 | 1 | 1 | | |
| Charles Winkfield (Wingfield) | 1 | 1 | 1 | 1 | Mrs Otterback's |
| Peyton Williams | 1 | 1 | 1 | | |
| Henly (Henry) Williams | 1 | 1 | 1 | | |
| Alfred Williams | 1 | 1 | | | |
| Alfred Williams Jr | | | 1 | | |
| George Washington | | 1 | 1 | 1 | Mrs A M Fitzhugh's |
| James Washington | | 1 | 1 | 1 | Near Geo Mason's |
| James Washington Jr | | 1 | 1 | | |
| James Washington | | | | 1 | Near C Arundle's |
| Thomas Whiting | | 1 | 1 | | |
| Mack West | | 1 | 1 | | |
| Robert Williams | | 1 | 1 | | |
| Samual Williams | | 1 | 1 | | |
| Neil B Watson | | 1 | 1 | | |
| Harknus (Harckness) Wooddy (Woody) | | 1 | 1 | | |
| Barney Williams | | 1 | 1 | | |
| Alfred Whaley | | 1 | 1 | 1 | Germantown |
| Charles Weight | | | 1 | | |
| Isaac Williams | | | 1 | | |
| Thomas Wells | | | 1 | | |
| Lewis Willis | | | 1 | | |
| George White | | | 1 | 1 | James Buckley's |
| Haniball (Hannibal) Whelby (Whigby) | | | 1 | 1 | James Wrenn's |
| David Washington | | | 1 | | |
| Addison White | | | 1 | 1 | H Snowden's |
| Isaac Wilsey | | | 1 | | |
| George Wanger | | | 1 | | |
| Sandy Wilson | | | 1 | | |
| Daniel Williams | | | 1 | | |
| Henry Washington | | | 1 | | |
| Lewis Washington | | | 1 | | |
| James Whitely (Whitley) | | | 1 | 1 | Accotink |
| Lloyd Washington | | | 1 | | |
| George Williams | | | 1 | | |
| James R Williams | | | 1 | | |
| James K Williams | | | | 1 | C. Lukens' |
| James Watts | | | 1 | | |
| William Williams | | | 1 | 1 | Jno Haislip's |
| Carter White | | | | 1 | West End |
| Barnett Williams | | | | 1 | Harrison Otis' |
| John Westford | | | | 1 | Mt Vernon |
| Isaac Wood | | | | 1 | Washington's old Mill |
| Philip Wood | | | | 1 | Washington's old Mill |
| Washington Whiting | | | | 1 | West End |
| Harry Washington | | | | 1 | Mrs Otterback's |
| George Wiley | | | | 1 | Richard Lacey's |
| Richard Wharton | | | | 1 | E. O. Betts' |
| Samuel Williams & William Day | | | | 2 | Centreville Road |
| Joseph Washington | | | | 1 | Dr Bigelow's |
| Renno Ward | | | | 1 | Lucas' Brickyard |
| Isaac Washington | | | | 1 | Jerome Linton's |
| Caton West | | | | 1 | William Hunter's |
| Reuben Winston | | | | 1 | Mrs Somers' |
| Simon Winston | | | | 1 | Mrs Somers' |
| Fielding Wilson | | | | 1 | W H Gooding's |
| Martin Williams | | | | 1 | S Kitson's |
| Thornton J Wanser | | | | 1 | William Ellzey's land |
| Duke Williams | | | | 1 | F Magruder's |
| Lewis Williams | | | | 1 | Jerry Ragan's |
| George Weaver | | | | 1 | Jerry Ragan's |
| W H Young | | | 1 | | |
| William N Young | | | | 1 | Adam Young's |
| Isaac Young | | | 1 | | |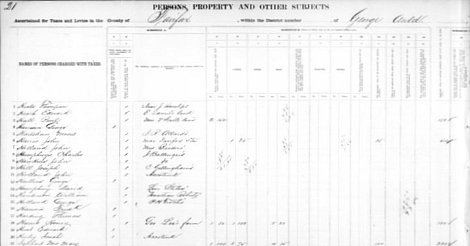 Portion of the Fairfax County Personal Property Tax Ledger from 1869