Wiley's Tavern
Built ca. 1790
by Debbie Robison
March 5, 2015
TAVERN ON THE MAIN ROAD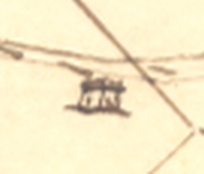 Captain James Wiley, a veteran of the Revolutionary War, opened a tavern on the Alexandria to Leesburg Road in 1790.<![if !supportFootnotes]>[1]<![endif]> Wiley's property consisted of 264 acres and was located only a few miles from Matildaville, a former town located at Great Falls for which Wiley was a town trustee.<![if !supportFootnotes]>[2]<![endif]> Wiley enjoyed the custom of George Washington for two nights lodging and dining in November 1799 while Washington was in the area surveying his Difficult Run property.<![if !supportFootnotes]>[3]<![endif]> Washington purchased the nearby land for use as a stage stop for his wagons on trips to his western lands located in the area of present-day Charlestown, West Virginia.<![if !supportFootnotes]>[4]<![endif]>
Sketch of the Tavern from an 1845 Road Survey, Image Courtesy Fairfax County Circuit Court Archives
Although there is no known description of the tavern, James Wiley's estate inventory, though incomplete, suggests some of the furnishings.
James Wiley's Estate Inventory (Partial)


8 bedsteads and furniture
3 card tables (2 mahogany, 1 walnut)
22 chairs (16 of which were Windsor chairs)
6 tables (2 were large tables)
1 dozen tea spoons
15 knives and forks
1 dozen dining plates
1/2 dozen breakfast plates
1 dozen small plates
3 quart decanters
2 pint decanters
1 half-pint decanter
1/2 dozen half-pint tumblers
4 wine glasses
In addition to operating the tavern, Wiley also farmed his land growing hay, oats, rye, and corn. The farm animals listed in his estate inventory included 7 cattle, 9 sheet, and 22 large hogs.<![if !supportFootnotes]>[5]<![endif]>
Wiley's farm was called Prospect Hill and in 1801 a post road was established to Wiley's Tavern from the City of Washington.<![if !supportFootnotes]>[6]<![endif]> Upon James Wiley's death in 1811, his son William operated the tavern.<![if !supportFootnotes]>[7]<![endif]> William Wiley was appointed postmaster of the Prospect Hill post office in 1816.<![if !supportFootnotes]>[8]<![endif]>
WAR OF 1812
William Wiley owned the tavern throughout the War of 1812. During Dolley Madison's flight in 1814 from the burning President's Mansion, she had a to convince the proprietress of the tavern to allow her to stay after coming in out of a severe storm. Reputedly, the tavern keeper, furious that Mrs. Madison was in her tavern, went to the stairs and yelled:
"Miss Madison! if that's you, come down and go out! Your husband has got mine out fighting, and d-- you, you shan'st stay in my house; so get out!" <![if !supportFootnotes]>[9]<![endif]>
If the proprietress did say this, then she must have relented because President James Madison met up with Dolley Madison that evening at the tavern.<![if !supportFootnotes]>[10]<![endif]>
To help pay for the war, tavern keepers were assessed an additional tax in 1815 and 1816 on the value of their tavern. Wiley's Tavern was assessed at $150 in 1815. Only John Wren had a tavern in Fairfax Parish that equaled Wiley's in value. In 1816, Wiley's tavern was assessed at $200, double the rental value of any other tavern in Fairfax Parish that year.<![if !supportFootnotes]>[11]<![endif]>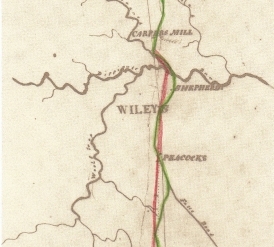 Wiley's Tavern was situated directly on the road from Alexandria to Leesburg about a quarter mile east of Difficult Run. Different sections of this road became the Middle Turnpike and the Leesburg Turnpike. William Wiley was one of the citizens who petitioned the Virginia General Assembly to subscribe to the stock of the Middle Turnpike Company so that the funding would be available to construct a toll road from Wiley's Tavern to Drane's Tavern (Dranesville).<![if !supportFootnotes]>[12]<![endif]> An improved, paved road adjacent to the tavern would certainly have been an advantage in acquiring business. For more information on these turnpikes, click here.
I. A. Sommers' 1827 Plat of the Contemplated Middle Turnpike Road.
MATEER'S TAVERN
William Gunnell purchased the tavern from William Wiley probably sometime in the late 1820s.<![if !supportFootnotes]>[13]<![endif]> By October 1829 the tavern was known as Mateer's Tavern.<![if !supportFootnotes]>[14]<![endif]> James Mateer was likely renting the tavern from Gunnell until he purchased the tavern and about 80 acres from Gunnell's heirs in 1839.<![if !supportFootnotes]>[15]<![endif]> The land remained in the Mateer family until 1883.<![if !supportFootnotes]>[16]<![endif]>
Mateer's Tavern is shown on a plat of a proposed road that would intersect the Middle Turnpike between Mateer's Tavern and Difficult bridge. This plat confirms the location of the tavern. <![if !supportFootnotes]>[17]<![endif]>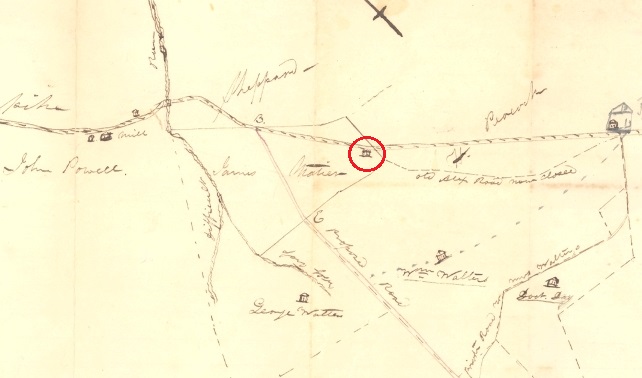 Plat of proposed road "To begin from between difficult bridge and Mateer's Tavern on Middle Turnpike and Hunter's Mill Road" Image Courtesy of Fairfax County Circuit Court Archives
The former tavern location is shown below on a current property map.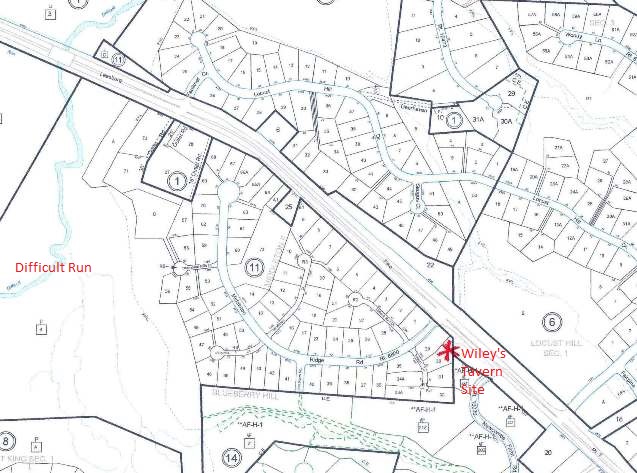 Fairfax County Property Map Showing Former Location of Wiley's Tavern, Image Courtesy County of Fairfax
BIBLIOGRAPHY
Anthony S. Pitch, The Burning of Washington: The British Invasion of 1814, Naval Institute Press, Annapolis Maryland, 1998.
ENDNOTES
<![if !supportEndnotes]>

---
<![endif]>